News
Skyrim: Legendary Enderal Mod Comes to Steam
Skyrim mod Enderal tells a mature story in a diverse world.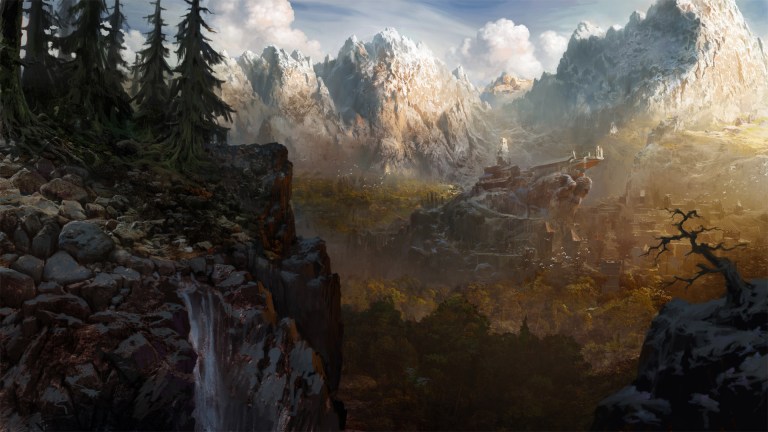 Massive Skyrim mod Enderal is coming to Steam. Developed by SureAI, Enderal is (for all intents and purposes) an entirely new game in the Elder Scrolls universe. It's based on the base Skyrim game, but it features so much new content that it's hard to believe that it's not a new Bethesda Game Studios Elder Scrolls title. Now, you can download it directly from Steam rather than from NexusMods where it has already been downloaded almost 200,000 times. 
Much of Enderal's appeal comes from its world. The mod's creators have crafted a stunning world that feels very true to The Elder Scrolls (especially in terms of the various architecture themes in towns and cities) but also challenges the design standards of previous Elder Scrolls worlds by utilizing a much more diverse series of environments. From snowy mountain peaks to lush forests, Enderal's world is loaded with fascinating corners that are begging to be explored. 
Enderal also boasts a lengthy campaign that is anchored by an utterly compelling narrative that revolves around a spreading illness that threatens to wipe out a large portion of the population. Our hero's mission, should they choose to not get sidetracked and ignore it, is to seek out ancient knowledge, which some believe may lead to a cure. It's a dark tale that touches on many surprising themes, such as the role of religion in an ailing world, and features an impressive 30 hours of original voice acting. 
On top of that, you get a new soundtrack, a far deeper character building system that lets you craft a unique class by combining various skills, class-specific "talents" that let you utilize things like fire arrows, traveling bards who sing original folk songs, and much, much more. 
We know that it seems like you're always hearing about the next great Skyrim mod (we've talked about a few ourselves) but Enderal is truly one of those special fan creations that just might be good enough to spoil you for what we eventually get from The Elder Scrolls VI.
Matthew Byrd is a staff writer for Den of Geek. He spends most of his days trying to pitch deep-dive analytical pieces about Killer Klowns From Outer Space to an increasingly perturbed series of editors. You can read more of his work here or find him on Twitter at @SilverTuna014.