News
Shovel Knight: Plague of Shadows DLC Release Date Announced
Pixel platformer Shovel Knight is getting a hefty and free bit of DLC called Plague of Shadows. Here's the release date...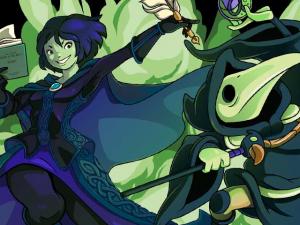 Update 9.10.15:
Here's just a brief update about Yacht Club's forthcoming update for the wonderful Shovel Knight. The studio's announced that the free download, Plague of Shadows, will be available from Sept. 17.
A new adventure where the villainous Plague Knight takes centre stage, Plague of Shadows will add extra enemies and new areas to existing stage designs. Given that it's free to those who've previously purchased Shovel Knight – the only stipulation is that you've completed the original campaign – it sounds like a surprisingly generous offering.
Yacht Club have even provided an online instruction manual, detailing Plague Knight's double-jump and potion-lobbing abilities, on its website. Like all their stuff, it's designed with real care and affection. I mean, just look at these lovely Plague Knight illustrations: 
Further details – the announcement trailer, and a few words about Shovel Knight's forthcoming physical, boxed release – can all be found in our original story below. 
Original Story 8.26.15:
Shovel Knight received glowing reviews on release, and with good reason. Not only is it an affectionate throwback to an 8-bit era of platformers, but it's also a great game in its own right, with pixel-perfect level design, nicely-wrought mechanics, and a challenge pitched on just the right side of difficult. We'd go as far as calling it a masterpiece. 
If it's been a while since you've played Shovel Knight, the trailer below's a reminder of just how superb its character design and animation is. The promo's for Plague of Shadows, a free update that will let players take on the role of the villain, Plague Knight. This is more than a visual re-skin, too: Plague Knight comes with his own explosive weapons which, as you'll see in the clips below, completely change the game's ebb and flow.
The DLC will also add new objectives and enemies, plus additional areas in existing levels. It's a lot of extra stuff, especially considering Shovel Knight's developer, Yacht Club, is handing it out for nothing. 
If you haven't bought a copy of Shovel Knight, it's really worth trying out before the DLC launches in the next few weeks (we don't have a date yet). You can download the game to just about every system going – 3DS, Linux, Mac, PC, PS3, PS4, Xbox One and Wii U are all supported.
If, on the other hand, you're into your traditional, physical boxes, there's more good news: Shovel Knight's coming out in a fancy box on 3DS, PS4, Wii U and Xbox One on the Oct. 16. It'll come packaced with Plague of Shadows and will provide access to all future updates. Hurrah.