News
Shovel Knight Dig: Trailer and First Details
Shovel Knight Dig is a fascinating spin-off that combines elements from several games.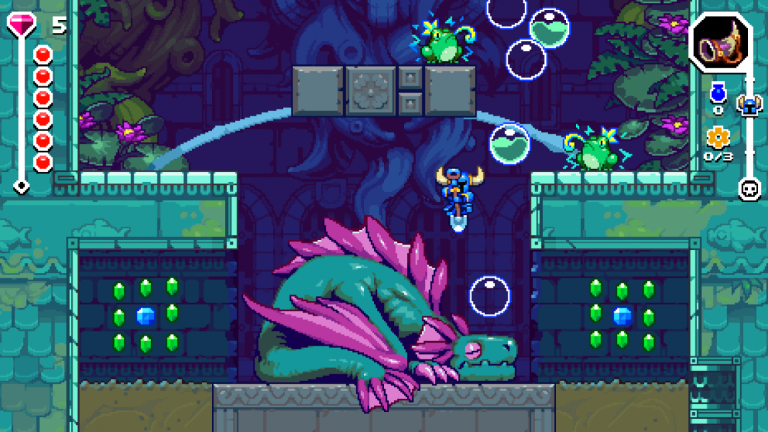 Yacht Club Games has revealed a strange new Shovel Knight project called Shovel Knight Dig. 
"When Drill Knight and his dastardly digging crew blast apart Shovel Knight's peaceful campsite and steal his loot, he grabs his trusty Shovel Blade and starts tunneling after them!" reads a description of Shovel Knight Dig on the Yacht Club Games website. "Meet new friends and foes, visit strange lands, and outfit yourself in your quest to keep the entire land from collapsing underfoot! Jump, slash, and dig your way down an ever-changing chasm of mystery in Shovel Knight Dig, an all-new Shovel Knight adventure!"
What does all that mean? That's a great question. Based on what we can tell and the information revealed thus far, it seems like Dig is best thought of as a blend of Mr. Driller (one of the most underrated PlayStation games), Spelunky, SteamWorld Dig, and classic Shovel Knight. 
Basically, it sounds like players will be tasked with digging their way through mostly vertical levels in order to collect more gems and battle various foes. Those gems can then be used to purchase permanent upgrades for your hero. It's not entirely clear what the end goal is, but the fact that levels consist of randomly arranged series of pre-generated designs would seem to suggest that Dig will offer quite a bit of replayability. 
What little we see of the game suggests that Dig will represent a fascinating combination of established gameplay styles. While we're still waiting on a better understanding of how the game will play out from start to finish (if there really is a finish), the fact that Shovel Knight was such an incredible experience leaves us feeling confident in whatever Shovel Knight Dig turns out to be. 
There's no available release date for Shovel Knight Dig, but it sounds like the game will at least be available for Nintendo Switch. 
Matthew Byrd is a staff writer for Den of Geek. He spends most of his days trying to pitch deep-dive analytical pieces about Killer Klowns From Outer Space to an increasingly perturbed series of editors. You can read more of his work here or find him on Twitter at @SilverTuna014. 
Read and download the Den of Geek SDCC 2019 Special Edition Magazine right here!