News
Should you swap your life for a Second Life?
Everyone (okay... some people, anyway) has been talking about this Second Life malarkey for months. But is it actually worth it? Hmmm...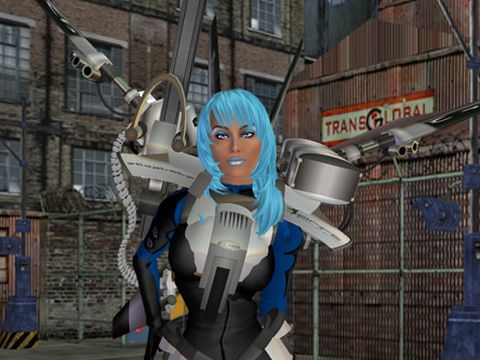 There is nothing people love more than a free game, which is why I initially gave Second Life a shot. I knew people who played it, and who enjoyed it; it's sort of the reason why I began playing World of Warcraft, but since I was already paying for one game, I wasn't going to pay for a second game. Hence the importance of Second Life being free in my decision to try it.  
It wasn't that I really wanted to get sucked into yet another game known to be as addictive as a heroin smoothie, but at the same time who doesn't want to be left out of the hot new thing? I know I don't. My cousin swore by the game, saying it was a blast. Little did I know.Second Life, for those of you who haven't looked at a single gaming/technology magazine in the past two years, is an online game where you create and customize your own avatar, plunge headlong into a digital world populated by thousands (or at least a hundred or so at one time) of other people, all of whom are hunched over a computer keyboard in a darkened room, just like you. From the comfort of your own home, you guide your avatar as it walks around, rides around on jet skis, dances in packed clubs to streaming music, or engages in a never-ending quest for the kinkiest XXX action outside of a Jenna Jameson film.  
So it is just like real life, except without the need to groom yourself, shower, and engage in pesky and distracting analog interaction with others.  
The avatar used to represent the Second Life user are as motile as individual moods. Fat people who want to look thin can change their appearance with a click of the mouse and a scroll of a wheel.  Balding? Hundreds of hairstyles are available for your digital persona. Lacking in certain key, ahem… anatomical areas? For a few Linden (in-dollars earned at various pointless tasks, given away free by companies looking to drive traffic to their Second Life digital islands, or purchasable through PayPal for real money, which is how the game is supported) you can purchase your very own detachable/customizable genitals, complete with a variety of amusing/disgusting biological functions, colors, sizes, and shapes.  
That's not to belittle Second Life users; I mean, I do play World of Warcraft, so I can't make fun of anyone for how they want to kill their free time, and the emphasis on socialization as the most important aspect of Second Life is refreshing in a world where your goal is to murder everything with a click of the mouse, or solve a puzzle. For the physically limited, aesthetically deficient, and those otherwise occupied indoors or at home for long periods of time, I have no doubt Second Life is a Godsend. Same for those of us who have friends who live hundreds of miles away, and who want to get together with the whole gang in the same environment and digitally hang out.  
Especially if by "hang out," you mean "watch improbable-looking cartoon characters engage in borderline-impossible acts of depravity."  
Like all online activities, Second Life can be a lot of fun, but with every new patch, the program requirements have increased. If you're not working off of a beefy computer system with graphical processing power to spare, you're probably not going to spend a lot of time in Second Life (at least, not for very long as your computer will glitch, freeze, crash, and otherwise collapse beneath the pressure of running an intense 3-D environment). If you've got a new computer, you should be able to handle Second Life, if only to give it a try. The only caveat is that you'll want to run Second Life from a desktop, as even my new Alienware laptop had difficulty running the game for longer than 10 minutes at a time (not sure why; I've heard Second Life doesn't play nice with any laptop).  Second Life can be summed up in one short phrase: The Sims with more options and more sexual content.  Not to say that Second Life is all about sex, but… the Coca-Cola Pavilion is empty, and the nude beaches, strip clubs, massage parlors, and brothels are all full. That said, as long as Second Life's bugs and stability concerns remain overwhelming, the lonely agoraphobe better off sticking to chat rooms, instant messaging programs, and geek-centric websites for your daily dose of false reality. 
Find more by Ron Hogan at his blog, Subtle Bluntness, or daily at Shaktronics.