News
Serious Sam's Bogus Detour Reveal Trailer
It's not quite the Serious Sam you know, but it's certainly the Serious Sam you love.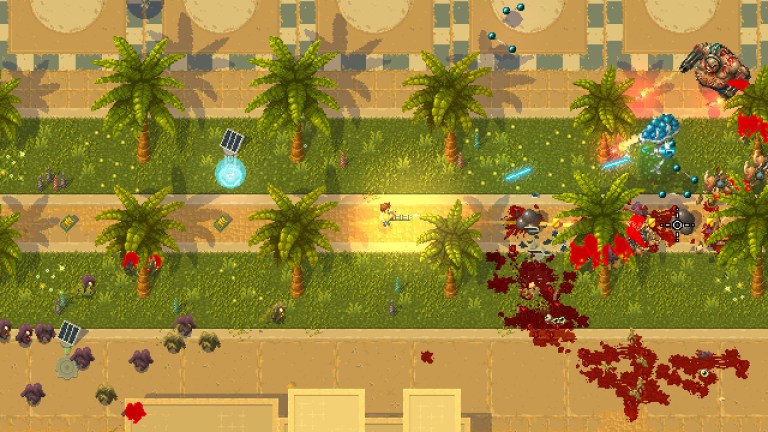 The Serious Sam series is known for outlandish weapons, ridiculous enemies, and non-stop first-person shooter combat. While the official reveal trailer for Serious Sam's Bogus Detour ditches the first-person elements, fans of the series will be happy to know that everything else has survived the series transition into a fresh new perspective. 
Yes, Serious Sam's Bogus Detour is a new game bearing the Serious Sam name, and no, it is not a first-person shooter. Instead, it's a top-down arcade shooter developed by Crackshell; the team behind the utterly brilliant top-down shooter, Hammerwatch. 
In many ways, Bogus Detour appears to be a reskinned version of Hammerwatch. While such things are not always welcome, it's hard to deny that the two styles appear to mesh quite well. Bogus Detour features Hammerwatch's  particular brand of intense arcade-style combat, but it's clear that the ante has been upped quite dramatically in order to pay tribute to the Serious Sam name. We haven't really seen this kind of non-stop action from a top-down shooter in years.
Of course, just like Hammerwatch, Bogus Detour has more to offer than just an action filled campaign. The game will also come equipped with a deathmatch mode that supports up to 12 players, a survival mode where up to 12 players can battle against waves of enemies, a fully-supported game editor, and a 2-4 player co-op campaign. 
Given that a more traditional Serious Sam game is also reportedly still in development, it's hard to not view Bogus Detour as a welcome addition to the franchise which should hopefully help to fill in the daunting hole that exists in the gaming market for pure action experiences. At worst, it's going to be an ever crazier Hammerwatch, which is really nothing worth complaining about. 
Serious Sam's Bogus Detour is expected to launch in the Summer for PC.