News
Sega Is Finally Porting Vanquish to PC
Following the success of Bayonetta's PC version, Sega is re-releasing another classic action game.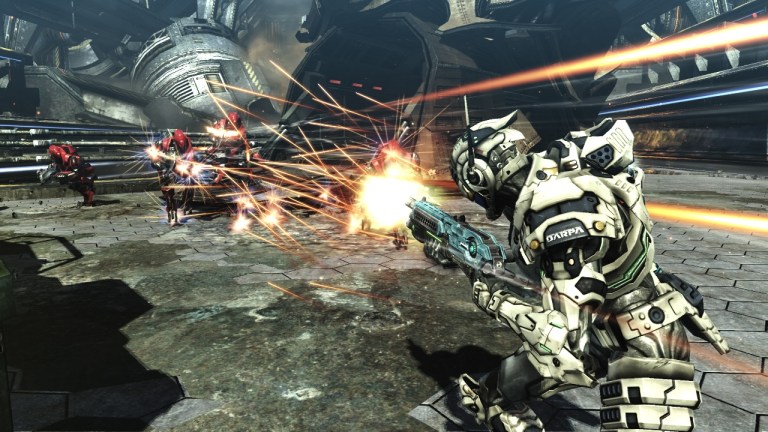 Sega has announced that Vanquish, the 2010 shooter from PlatinumGames, will finally be ported to PC.
It was rumored that Sega might be working on a PC port of Vanquish following the recent PC release of Bayonetta, but we now know the studio does indeed intend to release the cult classic action game on May 25th. It will be available exclusively through Steam. 
Much like the studio's Bayonetta port, Vanquish's PC version figures to be far more than a late to the party re-telling of a familiar story. This new version of the game will take full advantage of the capabilities of the platform by allowing PC players to experience Vanquish in glorious 4K at an unlocked frame rate. Additionally, Sega will be adding a host of graphical options as well as full mouse and keyboard support.
Those who pre-order the game before May 25th will receive a Deluxe Edition of the title that includes a five-song soundtrack sampler, additional avatars, promotional art, and exclusive wallpapers. Past that point, only the base version of the game will be available. 
In the studio's statement regarding the game's re-release, John Clark, Sega Europe's Vice President of Commercial Publishing, noted that this release is in response to the warm welcome Bayonetta received from PC gamers and noted that "There's more to come from SEGA in this space, so stay tuned for further announcements."
Vanquish occupies a curious space in developer PlatinumGames' history. It was released after Bayonetta and before Metal Gear Rising: Revengeance; two games that have gone on to achieve widespread critical acclaim. Vanquish is spiritually similar to those games, but never was held back slightly by its lack of replay value or additional modes.
Still, many consider Vanquish to be one of the most fast-paced action games of the modern era as well as one of the best games that former Resident Evil director Shinji Mikami has ever worked on.