News
Sea of Thieves DLC: Forsaken Shores Release Date
Gather 'round scalawags and hear some tales of Sea of Thieves hot new expansion, Forsaken Shores.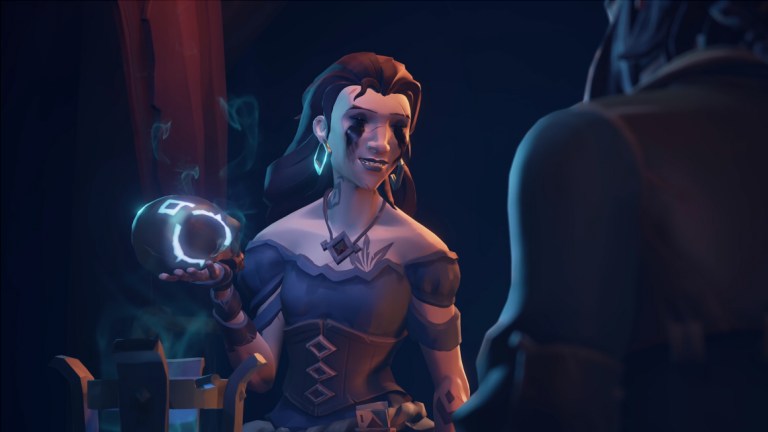 Rare has revealed some of the first details about the next Sea of Thieves DLC expansion, Forsaken Shores. 
As announced at Gamescom 2018, Forsaken Shores will focus on a new volcanic realm known as Devil's Roar. This island features a large volcano, naturally, that will occasionally erupt. Once that happens, the land will shake, lava will flow, hot rocks will rain from the sky, and the water around the island will become deadly to swim in. Why would anyone want to go to this lovely little slice of Hell? We're not entirely sure, but we bet the answer involves treasure. 
The good news is that you'll be able to escape this hellish island – and any other island – by using one of the game's new rowboats. Yes, this exciting new technology allows you to safely cross boiling water in order to reach your ship. Finally, you can live the pirate lifestyle with your very own rowboat (from Ronco). 
You'll also be able to take advantage of a new series of merchant missions called Cargo Runs. These missions require you to safely transport supplies and materials from location to another. Of course, doing so means that you'll need to safely navigate some hostile seas and avoid other players trying to sink your ship and steal your cargo. 
At present, Forsaken Shores is expected to release on September 19th. We expect that Rare will reveal more information about the game ahead of its official release. 
Until then, they're already started revealing a little information about what comes after Forsaken Shores. Rare isn't spilling too much information on these upcoming updates, but it sounds like Forsaken Shores is going to be the last Sea of Thieves expansion we get in 2019. It's possible that the studio will release smaller updates until the end of the year, but all future expansions for the game will start dropping again in 2019.
We'll bring you more information on Forsaken Shores, and all other Sea of Thieves updates, as it becomes available.