News
Rick and Morty GTA V Mod is All We've Ever Wanted
It's time to get schwifty in here.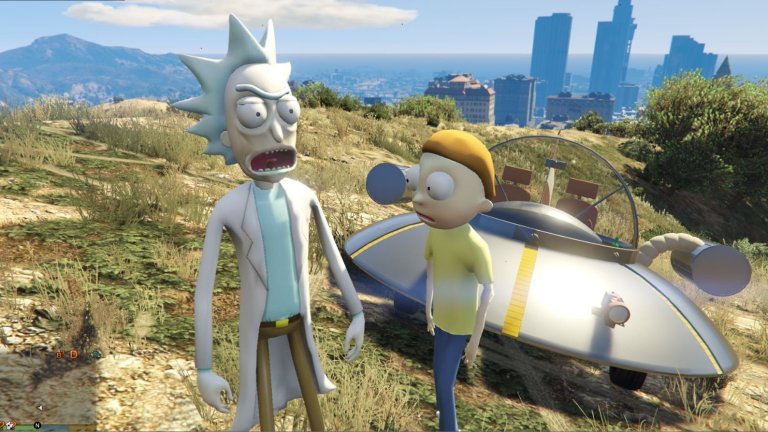 Given that Rockstar cruelly decided to make another Red Dead Redemption game instead of giving the world the Rick and Morty open-world title that they really wanted, we'll have to rely on this Grand Theft Auto V fan mod for our licensed entertainment amusement. 
Yes, the bountiful world of Grand Theft Auto V PC mods has provided the perfect piece of fan-created content yet again. Modder Jedidiah515 – probably not their real name – has created a new Rick and Morty mod for GTA V that adds Rick, Morty, the duo's spaceship, and a plethora of famous lines from the show to the core GTA V experience. 
If you're thinking that a game about wanton destruction and meaningless wandering doesn't really seem to fit the Ricky and Morty universe, that's likely because you've never actually seen the show and live in a dark pit of shame where you are afraid to cry due to the risk of someone hearing the echo of your weeping.
Honestly, this mod doesn't really alter GTA V's gameplay in ways that help the title resemble the average Ricky and Morty adventure. However, there's something oddly satisfying about watching a decidedly cartoonish version of Rick tear through the streets of Los Santos while uttering some of his most famous lines and destroying an abnormal amount of Morty clones. The visual contrast between the cartoonish Rick and Morty models and the relatively realistic world of GTA V helps you buy into the idea that Rick and Morty have transported themselves to the world of GTA V through one of Rick's wacky inventions. 
Best of all, you can listen to the hit single "Get Schwifty" while tooling around in Rick's spaceship. Surely, that was all that was keeping Grand Theft Auto V from becoming a true global sensation. 
We're not entirely sure why the modder felt the need to turn to Rick into a stripper, but it does feel oddly appropriate. 
If you're interested in trying the mod yourself, you can download it right here.