News
Reveal Trailer for Iron Galaxy Studio's Extinction
Hints of Attack on Titan style battles highlight this promising new adventure.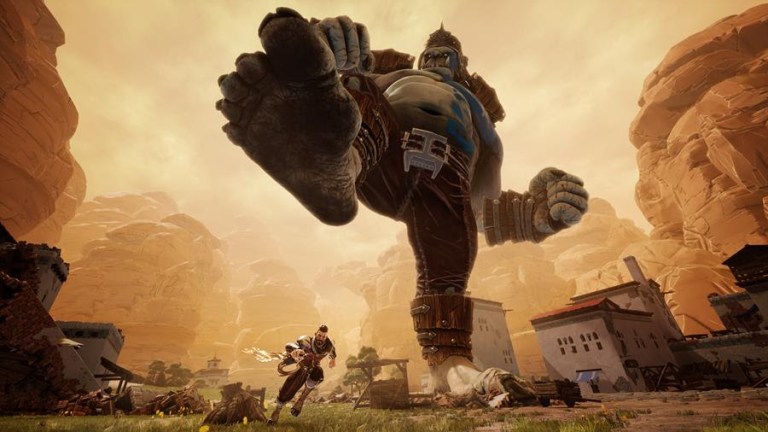 For years, developer Iron Galaxy Studios served as what you might call the video game equivalent of a script doctor. They were often hired to contribute to ongoing projects, typically by developing a PC or last gen port of a particular game. In recent years, though, the studio has been developing and publishing more and more original properties. In fact, you probably know them best as the studio that brought us the two-button fighting game, Divekick. 
Now, Iron Galaxy Studios is working on a new project that figures to be the developer's most ambitious title yet. Here is the first trailer for Extinction. 
Extinction thrust players into a world at war where various factions have been fighting for scraps of power. All that in-fighting is interrupted one day when a band of massive ogres invade the land and set out to destroy every human they can get their considerably large hands on. You play a soldier named Avil whose ancient bloodline means you may possess the skills needed to take down this ogre army. 
The game's plot borrows elements from Attack on Titan and Game of Thrones, but Extinction's gameplay is a bit more unique. The press release that accompanied Extinction's reveal doesn't detail the moment to moment gameplay, but rather alludes to an open-world (or large world) title filled with side quests and complimented by custom battle options and a horde mode. 
Where things get interesting is when it comes to combating the game's giant enemies. Here, it seems that players will be required to target individual areas of the ogres – the trailer shows one ogre regenerating a recently lost arm – before going in for the kill. To do that, it seems that Extinction will require you to explore the build of these monsters Shadow of the Colossus style in order to find their weak points. 
The idea of such methodical battles populating an open-world adventure certainly sounds like the kind of intriguing shot in the arm this genre sometimes needs. We hope to learn more about Extinction at E3 2017, but for the time being, the game is set to release for PlayStation 4, Xbox One, and PC sometime in the first quarter of 2018.