News
Resident Evil Movie Reboot Finds Director and Writer
The Resident Evil movie reboot has found its director and writer. Here are the details...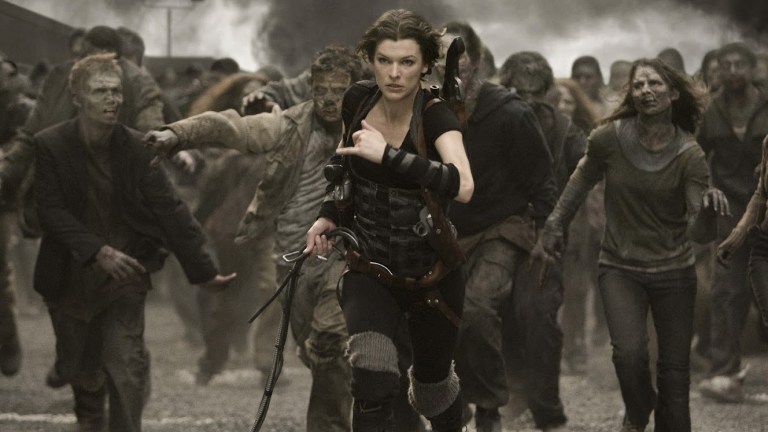 If you actually thought the last Resident Evil movie was going to be the last Resident Evil movie, then you may want to brace yourself. 
Yes, the Resident Evil film franchise is going to be rebooted. This report comes from Cannes Film Festival – no, Resident Evil was not up for an award – where Constantin Film chairman Martin Moszkowicz confirmed that the studio is working on a Resident Evil reboot.
The film will be directed and written by Johannes Roberts, known from shark thriller 47 Meters Down, reports Variety. The reboot begins production in 2019 and will feature an all-new cast. No release date has been set and your guess is as good as ours about the details as nobody seems too keen on sharing anything.
In the latest news, James Wan – the visionary behind Saw, The Conjuring 2 and December's Aquaman – is reportedly off the Resident Evil reboot picture as producer, according to Bloody Disgusting. Back in May 2017, Deadline reported that Wan had signed on to produce the reboot from a script by Greg Russo (Mortal Kombat). At the time, it was reported that Russo and Wan were only expected to join the first of six planned new Resident Evil films. While Wan did not reveal the reason for his departure from the project, he did express frustration over the fact that his involvement was essentially leaked. As Wan tells BD of the initial report:
"They announce that I'm attached to a lot of stuff and a lot of them are not necessarily real. It's kind of annoying when things come and go, or things never came in the first place. I hate it when my projects get announced. It makes it seem like I'm attached to a lot of things when in fact I'm not necessarily doing so many things. A lot of my stuff just get announced and I don't want them to be announced but people love to announce them." He adds, "It's the journalists that want to announce stuff."
It's an understandable point of frustration from Wan's perspective, though it is, nevertheless, an unavoidable aspect of industry media. Interestingly, Wan also used his comments as an opportunity to confirm his involvement with the remake of South Korean horror movie, Train to Busan.
Russo gave an update in November 2018, saying that he'd handed in his draft and was done working on the movie. This was before writer/director Johannes Roberts was tapped for the project:
I worked on the reboot for about a year and then Producer James Wan came in, my involvement on that project has kind of concluded, so I'm not sure what they'll really do with it, I submitted my draft to the producers and they were happy with it and ultimately they'll do what they will with the property but I'm currently not involved with that film.
It's unclear if Roberts is scrapping Russo's script completely or working on a new draft based on the current screenplay.
What we can say for sure is that this movie was almost inevitable. Resident Evil: The Final Chapter may have been billed as the final Resident Evil film, but anyone with a passing knowledge of the Friday the 13th franchise can tell you that "The Final Chapter" is the surest sign that a franchise entry is not actually going to be the final one. 
Of course, who can blame studios for wanting to keep Resident Evil alive? In case you didn't know, the Resident Evil film franchise has grossed around $1.2 billion dollars to date. The series is particularly popular in China where special effects spectaculars low on plot points and high on scenes featuring Milla Jovovich roundhouse kicking zombies tend to do quite well. 
further reading: The Most Ridiculous Moments in Resident Evil History
The over-the-top nature of the final few Resident Evil films does create a bit of a problem for the rebooted franchise, however. It's hard to imagine that this reboot will simply continue the escalation process of the original franchise by giving fans more explosions, more characters, and more roundhouse kicks. 
We'll be sure to provide more information on what may be the most punchy, kicky, explodey Resident Evil film yet as we learn more about this reboot.
Matthew Byrd is a staff writer for Den of Geek. He spends most of his days trying to pitch deep-dive analytical pieces about Killer Klowns From Outer Space to an increasingly perturbed series of editors. You can read more of his work here or find him on Twitter at @SilverTuna014.
John Saavedra is Games Editor at Den of Geek. Read more of his work here. Follow him on Twitter @johnsjr9. 
Joseph Baxter is a contributor for Den of Geek and Syfy Wire. You can find his work here. Follow him on Twitter @josbaxter.