News
Resident Evil 2 Mod Adds Goose from Untitled Goose Game
Great games collide as Untitled Goose Game's ferocious fowl brings extra horror to Resident Evil 2.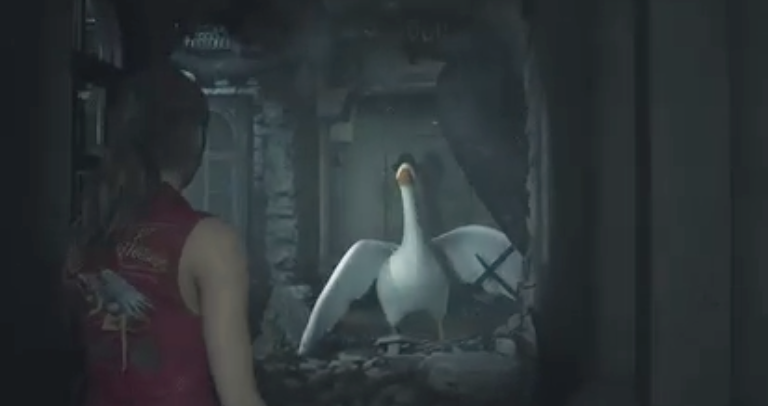 A renowned Resident Evil 2 modder is splicing the goose from Untitled Goose Game into Capcom's horror remake, and we are very happy to be sharing this news. After all, who doesn't love seeing great games colliding in funny ways? After cat videos, mash-ups like these are some of the best silly videos to watch on the internets.
The modder, whose Youtube channel is called ZOMBIΞALI, is the same that previously dropped Thomas The Tank Engine into the Resident Evil 2 remake. As with that train-stuffed mod, and another recent one including Pennywise The Dancing Clown, this waterfowl-based mod mainly hinges around the inherent hilarity of replacing the terrifying baddie Tyrant with a recognizable pop culture character.
The modder hasn't yet uploaded the full video of the goose stomping around the Raccoon City Police Station, but he has posted this GIF on his Twitter account to tease the full thing. 
If you're unfamiliar with Untitled Goose Game, you're in for a honking good time. It comes from the Australian developers at House House, and it allows players to step into the webbed feet of a prank-happy goose that is terrorizing a small village with his mischevious missions into people's gardens, shops, and pubs. It's basically a puzzle game with a comedy twist, and we'd definitely recommend playing it on PC on Nintendo Switch.
This year's Resident Evil 2 remake is also well worth playing. It's a high-end reimagining of the iconic horror game, which stays true to the tone and feel of the original as well as adding in heaps of extra scares and ideas. The fact that Tyrant (aka Mr. X) stalks you around the map is a particularly frightful addition.
The omnipresence of the towering Tyrant is also what makes mods like this so funny. The goose from Untitled Goose Game is more of a comedic character than a scary one, traditionally, but in the sizeable gap left by Tyrant he takes on a massive new menacing form. We'll be sure to share the full video when it arrives.