News
Resident Evil 2 Mod Replaces Mr. X With Thomas the Tank Engine
Thomas the Tank Engine joins Resident Evil 2's growing roster of silly mods.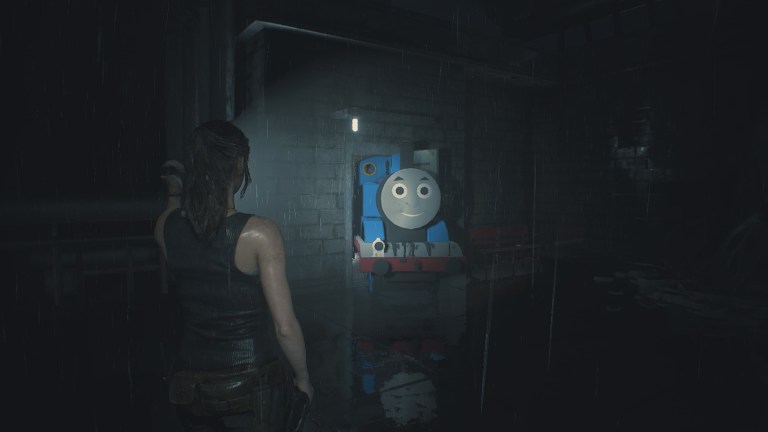 Remember that Treehouse of Horror episode of The Simpsons where the writers parodied the It's a Good Life episode of The Twilight Zone? It's the one where Bart has powers that let him rule the world and apparently makes Krusty stay on television 24 hours a day. At one point, Krusty breaks down and says this is all because of "one little boy who…WHO WON'T LET ME STOP!!" Anyway, that's about where we're at with these Resident Evil 2 comedy mods.
The latest Resident Evil 2 comedy mod turns Mr. X into Thomas the Tank Engine. The mod includes some optional sound files that adds some appropriate (or inapporpriate, depending on what you're looking for), music and effects to these encounters. Even the mod's creator admits that he doesn't know why he made this.
As you might imagine, this isn't a flawless conversion. Thomas the Tank Engine just wasn't meant to squeeze through certain doorways and hallways. There are also some concerns regarding his hitbox, which we're sure is going to upset the growing Resident Evil 2 eSports community. Of course, neither God or man ever fully intended for such an abomination to ever occur. What we're trying to say is that you should expect some texture clipping.
Thomas the Tank Engine now joins the Resident Evil 2 DMX mod and the mod that give Resident Evil 2's Tyrant a skimpy outfit to wear as the signs that we've flown to close to the sun and must now all live with the consequences of our technological decisions much like park operators in Jurrassic Park. Oh, and you can find them all for free over on Nexus Mods.
Of course, it's hardly a surprise that we're seeing so many Resident Evil 2 remake mods. Not only is the PC version of the game very well done, but Resident Evil 2 has managed to exceed the considerable expectations that fans had for it. It's yet another great entry in a franchise that has sold almost 100 million copies so far and has helped change the course of horror gaming.
Now, if you'll excuse us, we're going to see if Sideshow Mel has any more of those legal, over-the-counter wake-up drugs of his.
Matthew Byrd is a staff writer for Den of Geek. He spends most of his days trying to pitch deep-dive analytical pieces about Killer Klowns From Outer Space to an increasingly perturbed series of editors. You can read more of his work here or find him on Twitter at @SilverTuna014.