News
Resident Evil 2: Dino Crisis Mod Adds New Costumes and Weapons
Dino Crisis returns (kind of) in this Resident Evil 2 remake mod.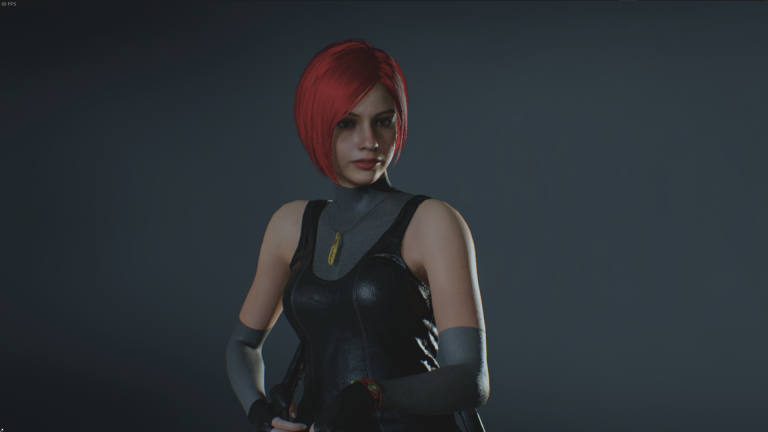 The latest Resident Evil 2 mod does its best to resurrect the Dino Crisis series that Capcom seems determined to ignore. It's called the Dino Crisis Mod Pack, and you can download it for free here if you have the PC version of Resident Evil 2. 
To be honest, this isn't the most elaborate Resident Evil 2 DLC we've seen so far. That honor would probably go to the mod that restores the game's original camera system or the one that convincingly adds the Nemesis to the game. This mod essentially just swaps Claire's character model for Dino Crisis' Regina (complete with bright red hair), turns Leon into fellow Dino Crisis alumni, Morton, and gives Sherry a sweet new Dino Crisis jacket to wear. It also adds a few new weapons to the game (including the Glock from the Dino Crisis games). 
On top of that, the mod warns that the content must be utilized in a certain way (you'll need to wear the Regina costume to see the Glock, for instance) and that this mod can cause some technical problems. On top of that, there's a possibility that the game's upcoming DLC will cause some compatibility problems with the mod's content. However, the mod's creator says that he will update it if that proves to be the case. 
This probably sounds like a lot to go through for some new costumes and items, but the fact this mod remains so appealing really does underscore the desire for a new entry into the Dino Crisis franchise. The original Dino Crisis was essentially just a re-skinned Resident Evil, but it was an effective horror title. The second game in the series turned Dino Crisis into an action-oriented horror game with absolutely brilliant results. 
Is there any hope of actually getting a new Dino Crisis title? Some, actually. Capcom has previously stated that they are interested in revisiting some of their older franchises. On top of that, they've noted that if there's enough support for a Resident Evil 3 remake, they might just be tempted to produce one. Surely the same can be said of a Dino Crisis remake or sequel. 
So while this mod isn't much, downloading it may not just fill the Dino Crisis void in the gaming world, but inform Capcom that it's time to resurrect this extinct franchise.
Matthew Byrd is a staff writer for Den of Geek. He spends most of his days trying to pitch deep-dive analytical pieces about Killer Klowns From Outer Space to an increasingly perturbed series of editors. You can read more of his work here or find him on Twitter at @SilverTuna014.