News
Reservoir Dogs: Bloody Days Latest News, Trailers, and Release Date
Time is on your side in this interesting adaptation.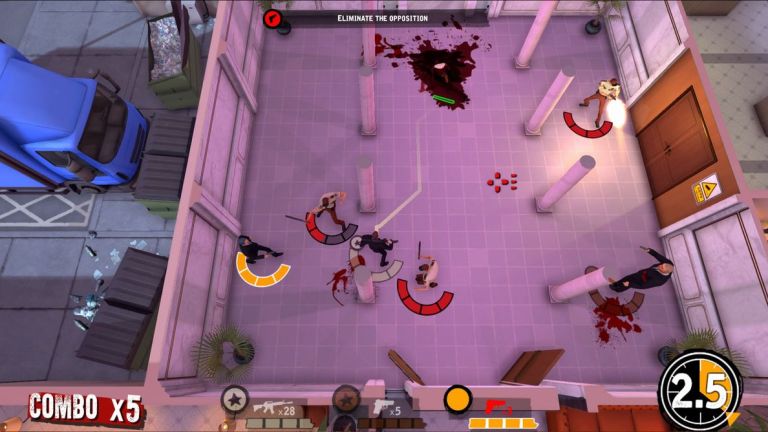 Reservoir Dogs: Bloody Days Latest News
Reservoir Dogs: Bloody Days is here, and we've got the launch trailer to prove it:
The latest trailer for Reservoir Dogs: Bloody Days is an ultraviolent preview of some of the game's mechanics, levels, and unbelievably brutal combat sequences. Check it out: 
While 2006's Reservoir Dogs for the PlayStation 2 was a disaster on par with the botched heist at the center of the Reservoir Dogs film, there is still a lot of potential for a properly done video game adaptation of Quentin Tarintino's infamous crime film. 
Lionsgate and Big Star Games will attempt to realize that potential with the release of their upcoming top-down shooter, Reservoir Dogs: Bloody Days.
Reservoir Dogs: Bloody Days Reveal Trailer by denofgeek
Even though Bloody Days allows players to control Mr. Blonde, Mr. Blue, Mr. Brown, Mr. Orange, Mr. Pink, and Mr. White as they participate in a series of heists, the game actually doesn't share that many similarities with the film. The characters aren't designed to look like the original actors and the original actors will not be providing voice work for the game. 
Actually, Bloody Days is best described as a mix of Smash TV and Hotline Miami. It's an incredibly bloody action game with style to spare built around a fascinating mechanic known as "Time Back."
What is Time Back? Well, imagine that you're playing as Mr. Pink as you prepare to rob a bank. You make your way through the level doing as well as you can while a timer at the bottom of the screen tracks your progress. At some point, you are not going to be able to finish the level by yourself. When that happens, you'll need to use Time Back to take control of another character and control them as they work their way through the level. 
This time, though, you will have an A.I. version of Mr. Pink following you around and replicating the movements that you made during your initial run. Through this mechanic, you are able to complete multi-man heists through single-player action. 
It's a little disappointing to see that the game won't feature certain elements from the original film – and we'd love to know more about any planned multiplayer content – but it is clear that the team behind Bloody Days are looking to make their own mark on the Reservoir Dogs name via a stylish shooter with genuine potential.
Reservoir Dogs: Bloody Days Trailers
The latest preview for Reservoir Dogs: Blood Days casts the game in a decidedly more cinematic light as it shows the game's heroes robbing a bank in a manner that isn't exactly stealthy. 
Reservoir Dogs: Bloody Days Release Date
Currently, Bloody Days is expected to release on Steam on May 18th. An Xbox One version of the game should follow shortly thereafter.