News
Red Faction Guerilla Returns in Re-Mars-tered Edition
Red Faction Guerilla's glorious levels of destruction enter the 4K era.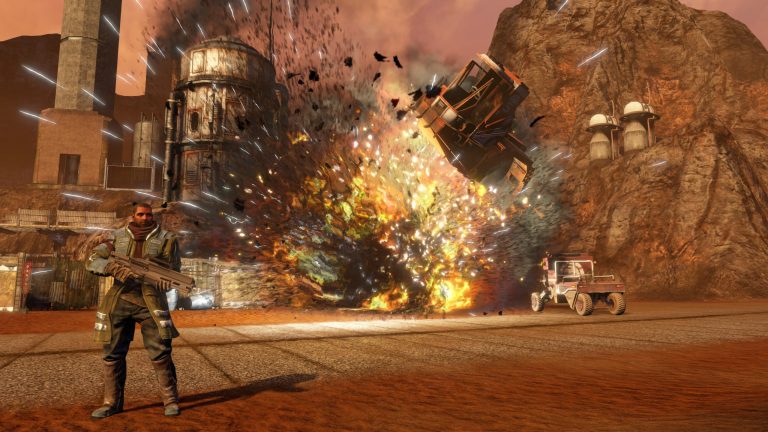 THQ Nordic has announced the released of Red Faction Guerrilla Re-Mars-tered edition. 
As you might have gathered from that punny name, this release will be a remastered version of the 2009 action title, Red Faction Guerrilla. Along with all the content from the original game – including all original DLC – this remastered edition will feature "fully reworked graphics" (which will apparently include reworked textures, better shadow rendering, and improved lighting), Native 4K support, and "shader & postprocessing rework."
It appears, then, that this remaster's update will largely focus on improving the original game's visuals. THQ Nordic haven't confirmed that they intend to include any significant content alterations or updates to the base game at this time. However, it's entirely possible that the increased visuals will naturally enhance the base game's level destruction elements by offering more detailed destruction possibilities. 
At present, Red Faction Guerrilla Re-Mars-tered is set to release on PC, PlayStation 4, and Xbox One sometime during the second quarter of 2018. Those who own the original game on Steam will be automatically upgraded to the new version. There is no word regarding a possible Nintendo Switch version of the game. 
If you've never played Red Faction Guerrilla, you're missing out on one of the more enjoyable open-world action experiences in recent memory. Guerrilla's calling card was the sheer amount of level destruction possibilities that it offered. While level destruction has always been a feature in Red Faction games, Guerrilla took it to a new level by allowing players to absolutely demolish open-world settings. It was basically an unofficial Incredible Hulk game.
That's not to say the game was mindless, though. It did a great job of allowing players to use the destruction system to devise new strategic tactics. Said tactics were deadly useful during the game's campaign mode which was quite as great as some previous Red Faction titles, but it did offer an oddly compelling sci-fi story and plenty of creative scenarios. 
Add to that the inclusion of Guerrilla's original multiplayer mode, and Re-Mars-tered should offer plenty of incentive to get your ass to Mars.