News
Red Dead Redemption 2 Will Feature John Marston
Red Dead Redemption 2 will indeed feature original series protagonist John Marston years before his own adventure.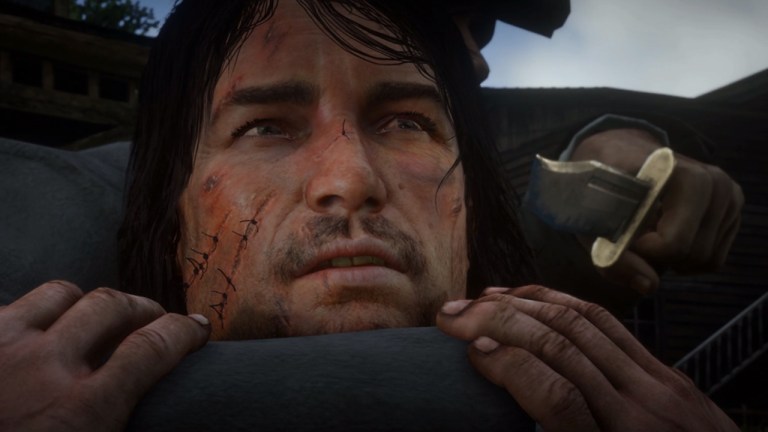 The latest trailer for Red Dead Redemption 2 finally confirms that John Marston will appear in the highly-anticipated sequel. (Shout out to IGN for catching this!) A younger Marston shows up about halfway through the trailer. From the picture above, it looks like he's just received his scars — they make him look pretty badass in the original game — and is in quite a bit of trouble. 
In case you need a refresher, Marston was the protagonist of the first game, which takes place in 1911 in the final days of the Old West. The upcoming sequel is actually a prequel and is set in 1899, so Marston is still rolling with the Van der Linde gang at this point. In fact, his crimes with this notorious gang are what sets the events of the original game in motion.
In Red Dead Redemption, Marston has finally been caught by the shady Bureau of Investigation and will only be granted amnesty if he tracks down the remaining members of the Van der Linde gang. One of the outlaws he has to track down is Dutch Van der Linde, the leader of the gang. We won't spoil how that turns out. Dutch also appears in Red Dead Redemption 2, which gives us a look at how his gang became so infamous in the West. 
Arthur Morgan, Dutch's right-hand man, is the protagonist of RDR2. While we don't know too much about him, Rockstar did release a new synopsis that gives us a few hints about his story in the game:
After a robbery goes badly wrong in the western town of Blackwater, Arthur Morgan and the Van der Linde gang are forced to flee. With federal agents and the best bounty hunters in the nation massing on their heels, the gang must rob, steal, and fight their way across the rugged heartland of America in order to survive. As deepening internal divisions threaten to tear the gang apart, Arthur must make a choice between his own ideals and loyalty to the gang who raised him.
Sounds like Morgan will be making many of the same tough choices Marston faces years later. We'll find out for sure when Red Dead Redemption 2 arrives on Oct. 26 for PS4 and XBO.