News
Red Dead Redemption 2: PC Trailer Arrives
Yes, Rockstar's Red Dead Redemption 2 will soon be available on various PC stores.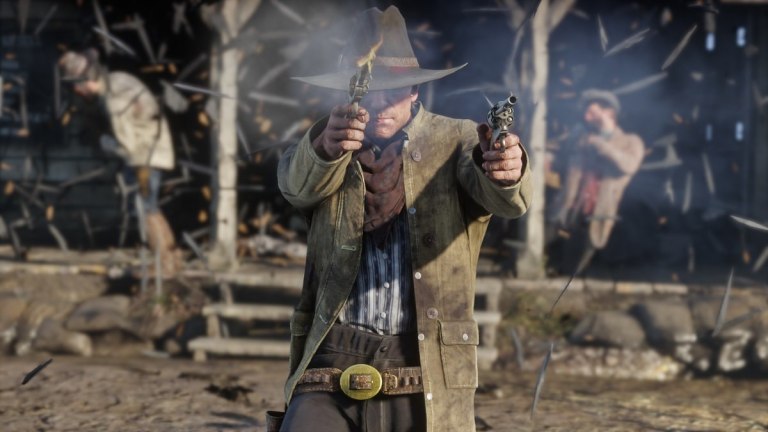 This is not a drill: Red Dead Redemption 2 is actually coming to the PC. 
"Today, we're proud to announce that Red Dead Redemption 2 is coming to PC on November 5th, with special bonuses available to players who pre-purchase through the Rockstar Games Launcher starting October 9th," reads a post on the Rockstar Games blog. "Red Dead Redemption 2 for PC will also be available to pre-order at the Epic Games store, Greenman Gaming, the Humble Store, GameStop, and additional digital retailers starting October 23rd with a pre-order bonus of 25 Gold Bars for Red Dead Online. Red Dead Redemption 2 for PC will also be available to purchase on Steam this December."
We've got a lot to cover here, but let's stay on that last bit for a minute. It's hardly a surprise that RDR 2 will launch on Rockstar's PC platform with exclusive content. It's kind of a surprise that it's coming to other PC launchers at all. It's really a surprise that it's coming to Steam seemingly after every other outlet. That's kind of an interesting business flex that seems to be a piece of commentary on the cut that Steam takes from games. 
Regardless, the big story here is that RDR 2 is finally going to be officially playable on PC. When it launches, it will feature all of the game's original content (including access to the updated version of Red Dead Online) as well as "graphical and technical enhancements for increased immersion along with new Bounty Hunting Missions, Gang Hideouts, Weapons and more." It's not clear exactly what that new content will be, but those who pre-order through the Rockstar Games Launcher will receive additional bonuses that include a War Horse for the game's campaign, a cash bonus for the campaign, and 50 Gold Bars you can use in Red Dead Online. You'll also be able to pick two classic Rockstar games to download for free. 
We also imagine that the PC version of RDR 2 will eventually grow to support mods, which is kind of a big deal if it turns out to be true. Open-world game mods are generally impressive, and when you look at what fans have spent years doing to GTA: San Andreas, we can't wait to see what the modding community comes up with for this game. The official 4K trailer for the port already hints at what is possible:
Considering that the only (entirely legal) way to play the original Red Dead Redemption on PC to this day involves subscribing to PlayStation Now, there was some doubt about whether or not Rockstar would ever bring Red Dead Redemption 2 to PC. Even if it wasn't for the convincing rumors that suggested a port was coming, we'd have still bet that this announcement was inevitable simply because of how well GTA V has done on PC over the years. 
Matthew Byrd is a staff writer for Den of Geek. He spends most of his days trying to pitch deep-dive analytical pieces about Killer Klowns From Outer Space to an increasingly perturbed series of editors. You can read more of his work here or find him on Twitter at @SilverTuna014.