Features
Realistic sports games in an unrealistic world
Do sports games need to be realistic to be fun? Sometimes, it's the lack of reality that makes them so brilliant, Alec writes...
As a relatively active, 22 year old man, it's safe to say that I'm well versed in the world of sports. I'll face the facts, however, I'm no professional athlete, and I'm more likely to throw a strop than a javelin or shot put. But still, I do play sports as part of an 'active and healthy lifestyle'.
These mostly consist of ball based games, like football, squash, basketball and volleyball – though I have dabbled in swimming and running from time to time. It's safe to say that I love playing sports, not just for the physical exercise, but for the spirit of the game, the joy of competing alongside your teammates and the exhilaration of winning – which doesn't happen that often, I'm afraid. Yet all of these feelings can be replicated from the comfort of my own home. How? You ask, well, I'll tell you. With videogames!
For years game developers have been attempting to recreate the feel of competitive sports in a virtual world – and after trying pretty much every year since the birth of pong in 1972, they've gotten pretty good at it. Games series like EA's FIFA, EA's NBA, EA's NHL, EA's NFL, EA's Golf and whatever 2K games can occasionally throw into the mix, dominate the world of sports based games.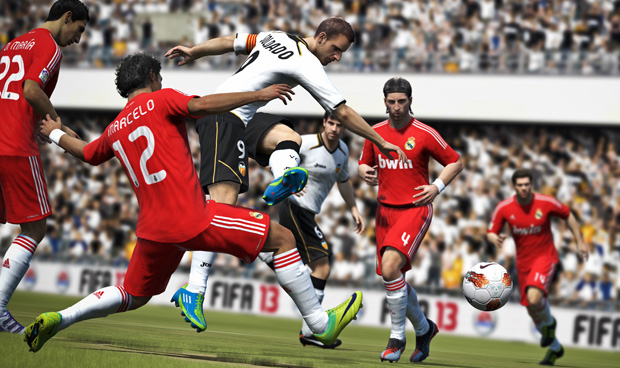 These titles are at the pinnacle of sporting realism, and probably the next best thing to actually grabbing your boots and kicking a ball around. Yet, there's always something off about these games. No matter how hard they try, they can never compete with the real thing. Maybe it's because they can't rival a cool breeze running through your hair as you sprint into the end-zone, the satisfaction of dump-tackling someone in a game of rugby or the humiliation of being struck in the face by a ball whilst playing football. Or, just maybe, it's because no matter how hard they try, videogames still manage to amaze, amuse and bemuse us with their level of occasional stupidity.
Let me draw from some of my own personal experiences, if you would. I am an avid FIFA fan, and, like many young adults my age, I've racked up my fair share of playing time on the game. But, in my travels around EA's virtual football pitches, I've seen some pretty weird things. For instance, on occasion, players will fall over each other and become intertwined in some sort of overly passionate wrestling match.
Footballs will mysteriously defy gravity to fall for the perfect volley or header. Goalkeepers will dive over a ball, or under a ball, or the wrong way, and sometimes, they won't even dive at all – allowing for the ball to trickle into the back of the net and for me to throw my controller across the room in frustration.
I've seen a ball strike a player's hand as he carries it across the pitch, a defender striking the ball with the ferocity of a prolific goal scorer into the back of his own net, and a goalkeeper kicking everything in front of him except for the ball. It's pretty obvious that these mishaps can only happen on a virtual platform. But I'll be the first to admit that I'm no professional footballer – on the football pitch I'm less Lionel Messi and more Lionel Ritchie. But even I know that a goalkeeper shouldn't turn to face his own goal and then throw it in the back of the net. But, perhaps in the search for realism and the 'perfect game', we gamers can overlook the odd bug or two.
But, then I would argue that a videogame doesn't have to be realistic to be fun. Some of the best selling sports based games out there aren't realistic. I mean, I've not been go-karting in a while, but the last time I checked, it wasn't considered 'fair play' to throw banana skins, ghosts that spit out oil and explosive blue shells at your opponents. Yet, Mario Kart is far more popular than any F1 game series about.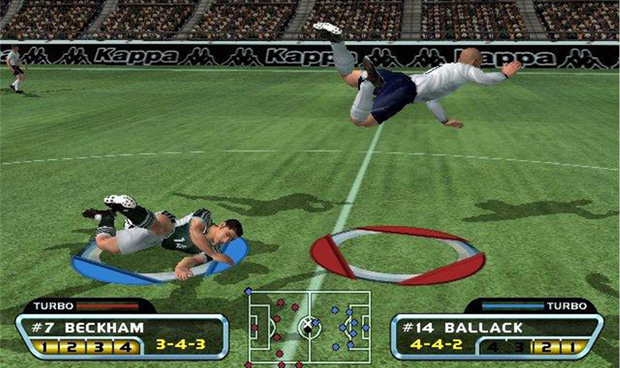 When I was a little younger, my favourite sports game was Red Card, where the objective of the game was to do as much damage to your opponent on the football pitch as possible. To me, that's what gaming is all about. It's not about beautifully lofted balls into the box or sweet strikes into the top corner – it's about spamming X to power up a shot which soars through the air, in a ball of glorious fire, straight into the back of the net. It's about making a tackle on a player and seeing in slow motion which bones in their body you've managed to break.
In essence, it's about having fun and not taking yourself too seriously – something that, in my opinion, EA have a real hard time doing. The world of videogames is one where your imagination is supposed to run free, where the impossible is made possible.
There is nothing impossible about realistic sporting games, other than trying to make them seem truly realistic. So why bother? Why not make them un-realistic? I'd still play them, and I'd find it much easier to forgive the occasional bug because it wouldn't be the difference between winning a game or losing it.
It'd just be about having fun.
Follow our Twitter feed for faster news and bad jokes right here. And be our Facebook chum here.