News
Rage 2: Trailer, Release Date, News, and Everything Else We Know
Everything you need to know about Rage 2, including latest news, release date, trailers, and more!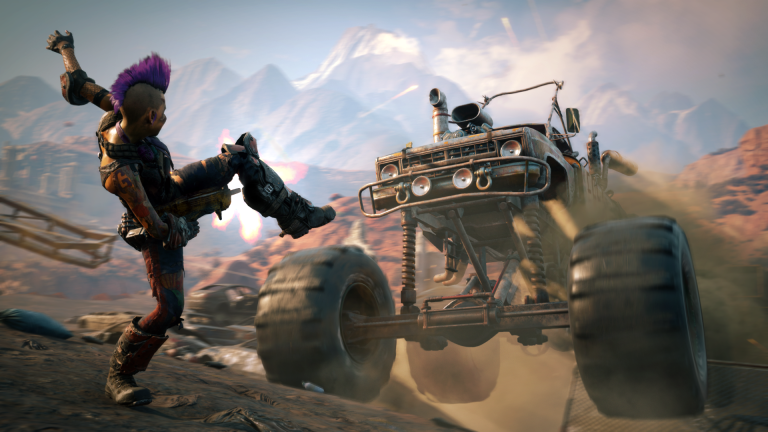 Nobody was quite sure what to make of the reports that a sequel to Rage was in the works. While Rage was a fairly well-received shooter, it didn't set the world on fire or establish much of a fanbase for the franchise. 
Nevertheless, Rage 2 is now official, and we're honestly incredibly intrigued by what we've seen of it. Developed by id Software and Mad Max developer Avalanche Studios, the next Rage game looks to combine open-world wasteland exploration with the trademark quality action that we've come to expect from id Software games. On top of that is a bizarre vision of the end of the world that includes a large number of themed gangs doing battle over what precious resources remain. 
In other words, it sounds like we're going to be getting the unofficial Mad Max game adaptation that we've been dreaming of for years. 
Here's everything that we know about Rage 2: 
Rage 2 Trailer
Rage 2 launches in May. Here's a trailer to celebrate!
If you're still confused as to what Rage 2 is, this next trailer (called "What is Rage 2") should hopefully clear it up for you. 
There's yet another Rage 2 trailer to feast your eyes on. This one is called "Everything vs. Me" and focuses on the game's various enemies.
This next trailer focuses largely on the BFG-9000 weapon which is a direct import from the Doom series. Give it a watch:
This extended gameplay preview for Rage 2 offers almost 10 minutes of footage from the game's pre-beta gameplay. Check it out:
This Rage 2 trailer from The Game Awards may be the most insane one yet:
Next up is the QuakeCon trailer:
E3 2018 brought us our first look at Rage 2's gameplay. This exciting upcoming game looks to combine the shooting of Doom and the open-world brilliance of Mad Max. Take a look:
Here are the first two trailers:
Rage 2 Release Date
Rage 2 is out on May 14, 2019. The game is coming to PlayStation 4, Xbox One, and PC.
Rage 2 Multiplayer
New information reveals that Rage 2 will feature multiplayer but won't include heavy social elements. 
In an interview with Eurogamer, id Software studio director Tim Willits said that Rage 2 won't feature "typical multiplayer" in terms of its social aspects. While he doesn't share the full details of Rage 2's multiplayer, he does note that you won't just be "running around together with your friends" in the game. We tend to think that suggests a more "classic" deathmatch multiplayer mode (or at least the option to play such a mode). 
Willits also stops short of revealing how Rage 2's DLC and live service elements will work, but he does suggest that it will include a mix of free updates and premium content. Unfortunately, he could not say for sure whether Rage 2 would feature loot boxes or other microtransactions. 
Rage 2 Microtransactions
Id Software boss Tim Willits informed GameStar that Rage 2 will not feature loot boxes or live service elements. 
Actually, Willits joked about the game's novel approach to revenue by stating that players will be able to buy the game and just play it. Bethesda later confirmed to USGamer that the game will not feature loot boxes or live service elements, but there's no word on whether or not the game will feature any post-release DLC content (whether it be free or premium).
Matthew Byrd is a staff writer for Den of Geek. He spends most of his days trying to pitch deep-dive analytical pieces about Killer Klowns From Outer Space to an increasingly perturbed series of editors. You can read more of his work here or find him on Twitter at @SilverTuna014.