News
Radical Heights: An '80s-Inspired Battle Royale From the Makers of LawBreakers
Embrace your inner Running Man in Radical Heights, the new battle royale game from the brains behind LawBreakers.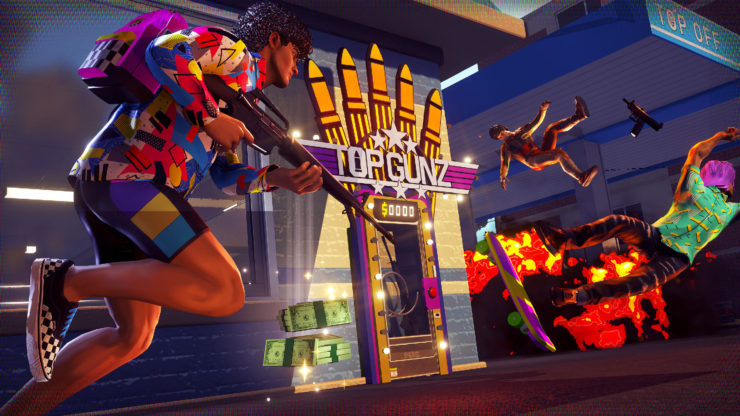 LawBreakers developer Boss Key Productions are developing a new battle royale game called Radical Heights.
Radical Heights is perhaps best described as a more "Running Man" take on the battle royale genre. It embraces the always popular '80s aesthetic by turning battle royale matches into a kind of game show. You play as one of the participants on this game show who must not only kill the competition but try to score a little cash along the way.
"Only in Radical Heights does in-game cash you find carry over into future matches," reads a statement from Boss Key games. "Play matches, collect cash, kill contestants, interact with game show elements and more to buy cosmetics from your personal prize room, or put some of that sweet cash in your bank to help buy a weapon next match quicker than your opponents. The choice is yours."
It seems that Radical Heights will pursue the more Fortnite style of battle royale gameplay, which means that you can expect to be able to purchase and find a lot of wacky items such as trampolines and inflatable decoys. The first screenshots also showcase battles in an arcade room which suggest it will go far beyond the usual forest settings.
All in all, though, we know very little about the actual gameplay at this point. We're assuming this will be a very arcade-style game, but we'll know for sure when Radical Heights goes free-to-play on early access on April 10th. Early backers will also have the opportunity to purchase a Founder's Pack for $14.99 which comes with special in-game items. There's no word on the game's other available transactions. 
Does this game have a chance of upsetting the current genre kings? Maybe. Its visuals and more relaxed style might help separate it from the pack a bit. In any case, it's getting in early on the trend as it was apparently developed in about five months.