News
Pythetron: Gradius-like shooter hits Kickstarter
Looking for a 2D shooter with 3D graphics, like Gradius V? Then check out the Kickstarter for Pythetron...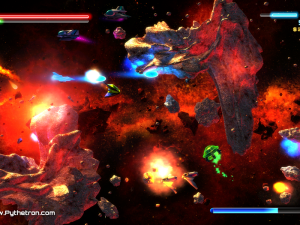 As far as I'm concerned, Konami's 2004 sequel Gradius V should have marked a new dawn for the side-scrolling shooter. It showed what a talented developer like Treasure could do with an old genre, an expanded budget, and plenty of inspiration. It looked incredible, was full of great ideas and some stunning music courtesy of Hitoshi Sakimoto.
Instead, Gradius V seemed to mark the end of an era. A download-only title called Gradius Rebirth aside, Konami hasn't returned to the genre, and we haven't seen an old-school shooter made on the same scale since.
Which brings us untidily to a game called Pythetron, which is the product of game designer T J Townsend. A 2D shooter made with 3D graphics, it clearly shares some of the Gradius series' DNA – it's full of eye-searing laser effects, exotic enemies, and unfeasibly huge bosses. It looks superb, particularly given its indie roots.
Pythetron recently went live on Kickstarter, where it's currently looking for $5,000 to get it over the finish line – writing on the site, Townsend says that he'd intended to self-fund the game entirely, but after investing a few thousand dollars of his own money, he's taken to Kickstarter to get it finished. That money will go to getting some proper music written by a composer, as well as the hiring of artists to improve the quality of the textures and game models. Here's a video:
Given just how finished the game already looks, it could be well worth throwing a few dollars in Pythetron's direction – especially if you miss the days of games like Gradius and R-Type. Oh, and if you're still not convinced, you can play an early build of Pythetron by following the download links on the game's main page.