News
Project Scorpio's Specs Have Been Revealed
Microsoft's next console is indisputably the most powerful on the market.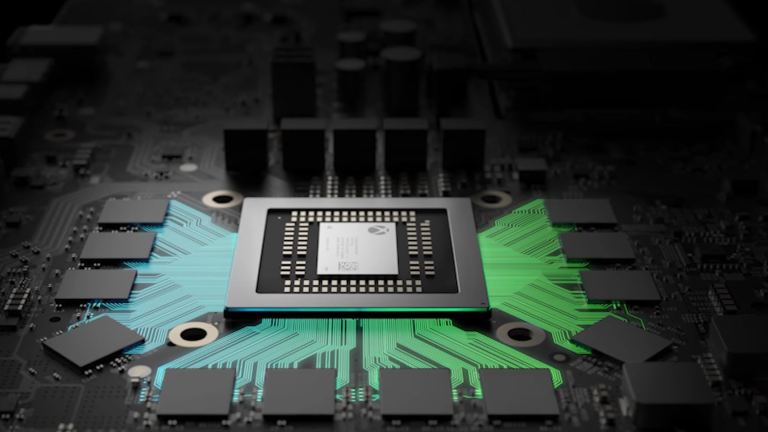 Eurogamer was invited to Microsoft Studios in order to get a world exclusive hands-on look at the specs of Project Scorpio. 
If you're looking for the quick answer regarding Scorpio's overall strength, just know that it's incredibly powerful. It is indisputably the most powerful console ever released by a fair margin, in fact.
Here is the full breakdown of known Scorpio specs:
CPU: Eight custom x86 cores clocked at 2.3GHzGPU: 40 customized compute units at 1172MHzMemory: 12GB GDDR5 RAMMemory Bandwidth: 326GB/s bandwidthStorage: 1TB hard drive4K blue ray drive
According to the report, Microsoft has indeed lived up to some of the vague hardware promises they had previously mentioned. The most notable of those promises is Microsoft's claim that Scorpio will ship with a six teraflop GPU. Some doubted if that was really possible as it would mean that Microsoft would be outfitting their new console with a rather pricey part that borders on overkill. 
What Eurogamer found most impressive, however, was the way that Microsoft implemented this technology. They have surpassed the expectations of some hardware experts by not only outfitting Scorpio with impressive hardware specs – including 12 GB of RAM – but by implementing that hardware in a way that rivals the efficiency of top of the line PCs. 
So what does this all mean for you? Well, take a look at this screenshot of Forza running on Project Scorpio:
Actually, take a look at that text at the top of that screenshot. What that says is that Scorpio is running Forza in 4K at 60 FPS. Eurogamer confirms that he has seen the game in action and that it is able to consistently run the game at maximum resolution with few interruptions in speed. However, he does state that the GPU usage varied from 55% to 75%, meaning that the console did have to sometimes dig deep to make this possible. 
It was probably no coincidence that Microsoft chose to show off Forza, a game that is also playable on PC. Eurogamer ran Forza Motorsport 6 on a top of the line PC with a GTX 1080 – which retails for about $500 – and found that it takes a computer of roughly equivalent specs to replicate the performance consistency of Project Scorpio as it pertains to this specific experience.  
What's really impressive, however, is that the Forza demo was apparently just an upgraded version of the Xbox One build. If that demo is accurate, that means that Project Scorpio may be able to run nearly every Xbox One 1080p game at native 4K. That's a feat that even the PS4 Pro can't match. 
The most interesting takeaway from this analysis, however, was the method Microsoft used to develop Scorpios specs. Since they already had a powerful console on the market – the Xbox One S – they decided to build Project Scorpio from existing software rather than starting from scratch. This seems to allude to Microsoft's plans to "eliminate" traditional console generations. This new method means that Scorpio isn't just an assembly of the latest parts, but rather a smart upgrade that maximizes the potential of the software.  
Ther are still some questions left unanswered by this early preview. This console may end up generating a lot of heat, for instance, and Microsoft has only vaguely outlined how that is going to be managed. We also still don't have a very clear picture regarding performance benchmarks over multiple titles, meaning that there could be unseen framerate issues on certain titles.
The biggest question mark, though, is still the price. Eurogamer gave a cautious estimate of $499 based solely on what they saw, but that's just an estimate. If, however, Microsoft is able to deliver such a powerful console at that price, they may very well be on their way to delivering on the hardware promises they made when Scorpio was first announced.