News
New Pokémon game has a critter that looks like an Eton Mess
Alcremie is the latest Britain-inspired creature to join the Pokémon Sword and Shield roster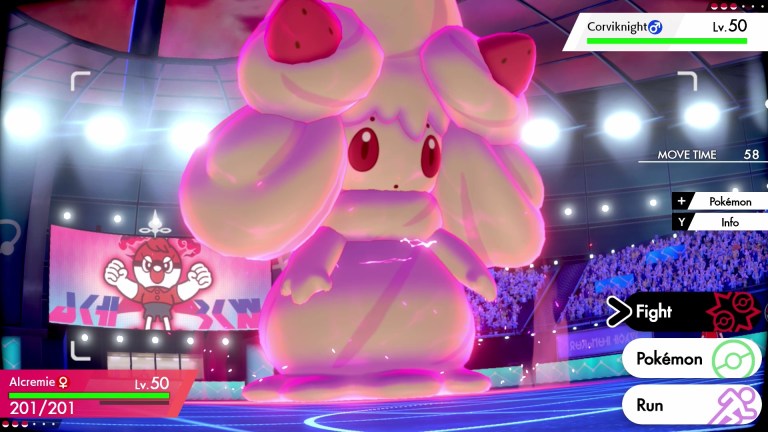 We already knew that Pokémon Sword and Shield, the next RPG entries in the popular gaming franchise, are set in a region called Galar that is inspired by the UK. And now, a new video has revealed a bunch of creatures that inhabit this region. One of them seems to be a sentient Eton Mess.
The Pokémon that looks like this iconic English pudding is called Alcremie. It's a fairy-type Pokémon with two strawberries on its head, and it has an ability called Sweet Veil. The official press release describes it thusly: "Alcremie can produce whipped cream, which becomes richer the happier Alcremie is feeling. Desserts made using this cream are invariably delicious, so many pastry chefs strive to have an Alcremie as their partner. When attacked by an opponent, Alcremie will throw sweet-scented cream to distract them or temporarily blind them, giving itself time to escape."
This video also unveils a new trick called Gigantamax, which is slightly different from the already-announced Dynamax system. While Dynamaxing allows your Pokémon to grow to massive sizes and use powerful moves, Gigantamaxing will add in an altered appearance and grant them an even more powerful move called a G-Max Move. Gigantamax-enabled Pokémon will be very rare, we're told.
You can get your first look at Alcremie and Gigantamax in the video below…
Alcremie isn't the only new Galar-exclusive Pokémon to be revealed in this video. There's also a coal-inspired creature called Rolycoly, a metal alloy Pokémon called Duraludon, and an electric corgi called Yamper (who previously popped up in the demo we played). You can really see the British influence, can't you?
The video also introduces a number of human characters from the game, as well as explaining how the Pokémon League will work in this region. Clearly inspired by Britain's regular rotation of football leagues and trophies, the game will centre on an annual tournament called the Champion Cup. You'll need to win this tournament in order to challenge the reigning champ.
Pokémon Sword and Shield launch on 15 November for Nintendo Switch.