News
Pokemon Sun and Moon News: Release Date, Trailer, Story Details, & Latest News
Everything you need to know about Pokemon Sun and Moon, including latest news, release date, trailers, and much more!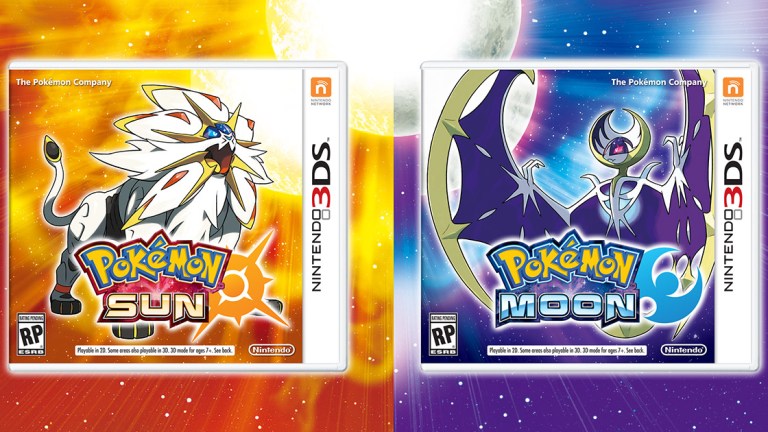 Pokemon Sun and Moon Release Date
Nintendo has announced the release date for their highly anticipated Pokemon Sun and Moon games this morning. Players will get to continue their quest to catch 'em all on November 18 in the US and November 23 in the UK.
Pokemon Sun and Moon Trailer
Like the rising morning sun, this day brings us a fresh Pokemon Sun and Moon trailer that introduces players to new trainers, new Pokemon, and new evolutions: 
The most interesting reveal in this new trailer must be the introduction of Silvally; a Pokemon whose type changes based on what item you assign it. This flexibility is quite the impressive mechanic and will surely lead to a few interesting strategies when Sun and Moon Make their long awaited debut. 
This latest upload from the Official Pokemon Channel gives us our first look at the evolved forms of each of the game's starter Pokemon.
While Torracat (the fire cat with a bad temper) is clearly the winner of the group, you can't discredit the wise owl Dartrix's evolution into a proper gentleman nor Brionne's evolution into a seal ballerina. As these videos show, these evolutions will affect much more than just the Pokemon's combat abilities as they also grant them a personality boost and new animations. 
We were introduced to Ultra Beasts in Pokemon Sun and Moon's last trailer, but this newest preview answers the question of whether or not there will be multiple Ultra beasts by revealing Pokemon Sun's exclusive beasts (UB-02 Absorption) and Pokemon Moon's exclusive beast (UB-02 Beauty). 
UB-02 Absorption is defined by his bulky frame and beak-like mouth, while UB-02 Beauty is a decidedly more graceful design that is apparently capable of using its beauty to destroy the will of opposing creatures. 
The latest trailer for Pokemon Sun and Pokemon Moon reveals that the games will include a new Poke Finder feature that will, essentially, add a Pokemon Snap quest to the upcoming sequels. 
Sun and Moon's Poke Finder allows players to utilize certain photography spots to take pictures of Pokemon in the wild and receive points for their efforts based on how good the photos are. Points can then be used to purchase upgrades for their camera that will unlock new abilities and increase your overall photo quality. 
Additionally, Sun and Moon will take place 12 hours apart from each other. This time difference is tied into the time of our world (specifically, the time on your 3DS), meaning that playing different versions and different time will result in aesthetic changes as well as the appearance of unique Pokemon. Speaking of unique Pokemon, a new type of creature known as an "ultra beast" will appear in the game. The nature of these beasts remains something of a mystery, but the one shown in the trailer does seem to possess some kind of shapeshifting abilities. 
Add to this some unique evolutionary forms based on which copy of the game you own as well as new Pokemon types and few running side-quests, and it looks like we've got a couple of stacked sequels to look forward to later this year. 
Another trailer for Pokemon Sun and Moon introduces Z-Moves, special abilities that can be unlocked by a trainer with a special bracelet. Any Pokemon holding a Z-Crystal can perform the special attacks. This sounds a bit like how Mega Evolution worked in X and Y. Check out the trailer:
More new Pokemon have been revealed for the upcoming Sun and Moon versions. Those Pokemon include Comfey, who pretty much looks like a lei turned Pokemon, and a ghost type named Mimikyu, who dresses in a Pikachu costume. Mimikyu is really adorable and sorta creepy. Like he's wearing Pikachu's skin or something. Also, his name is a pun. 
Check out the trailer below:
The latest Pokemon Sun and Moon trailer has unveiled a new Pokemon named Salandit, a Toxic Lizard who's a poison- and fire-type. One of his abilities, Corrosion, allows him to poison any Pokemon, no matter their immunities.
Check out the trailer below:
"Salandit emits toxic gas, together with flames, from the base of its tail. This poisonous gas has a sweet smell, and anyone who unknowingly breathes it in will become dizzy. Salandit is not a very powerful Pokémon, but its cunning nature allows it to battle fiercely by throwing its opponents off balance.
"Salandit females not only release toxic gases, they can also emit pheromones that attract males of all species, including Pokémon and humans. Inhaling these pheromones may cause opponents to be controlled by Salandit's will."
A brand new trailer for Pokemon Sun and Moon reveals 7 new Pokemon that you'll be able to catch in the Alola region! Meet Togederamu, Tapu Koko, Charjabug, Bruxish, Vikavolt, Drampa, and Cutiefly:
Nintendo brought Pokemon Sun and Moon to its Nintendo Treehouse live stream at E3 2016, showing off lots of new footage of the game, including tweaks and changes to the battle system. Check out the full presentation below:
Nintendo has dropped new details in a trailer about Pokemon Sun and Moon, including info on the games' legendaries and a map of Alola, the new region introduced in the games. First, meet Solgaleo and Lunala, the two new legendaries:
Solgaleo is a psychic/steel Pokemon, while Lunala is a psychic/ghost. The legendaries invoke the power of the sun and moon respectively for their special abilities: Sunsteel Strike and Moongeist Beam. 
A map of Alola is also shown in the trailer, and it looks to be separated into four large islands, teasing quite a bit of travel by water. Check out the region map: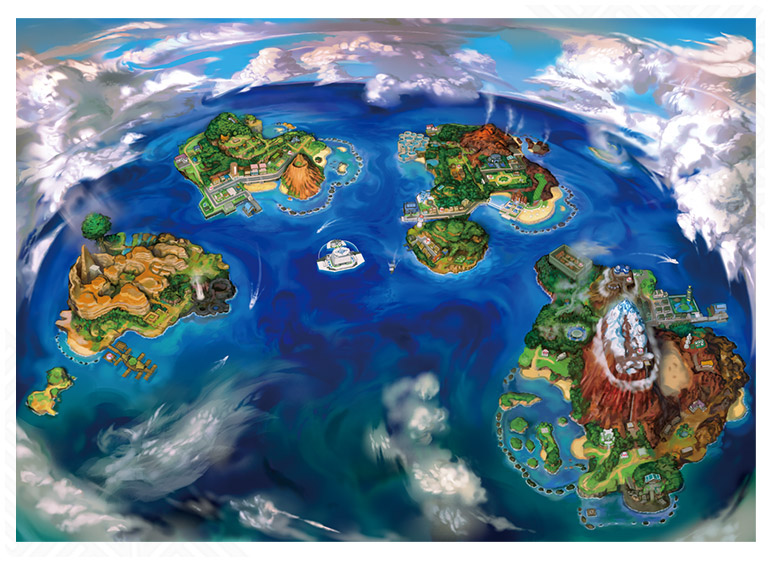 The trailer also teases new characters, including Professor Kukui and his assistant Lille, as well as Lille's friend, Hau. 
Here's another gameplay trailer of Sun and Moon in action, which ends with a tantalizing look at each version's unique box art featuring a legendary Pokemon.
You can check out the Japanese trailer for the game, too:
Pokemon Sun and Moon Starters
Nintendo has given us a detailed glimpse of the new starter Pokemon that will be accompanying us on our journey this fall. The adorable trio includes the grass-type owl Rowlet, the fire-type cat Litten, and the water-type sea lion Popplio.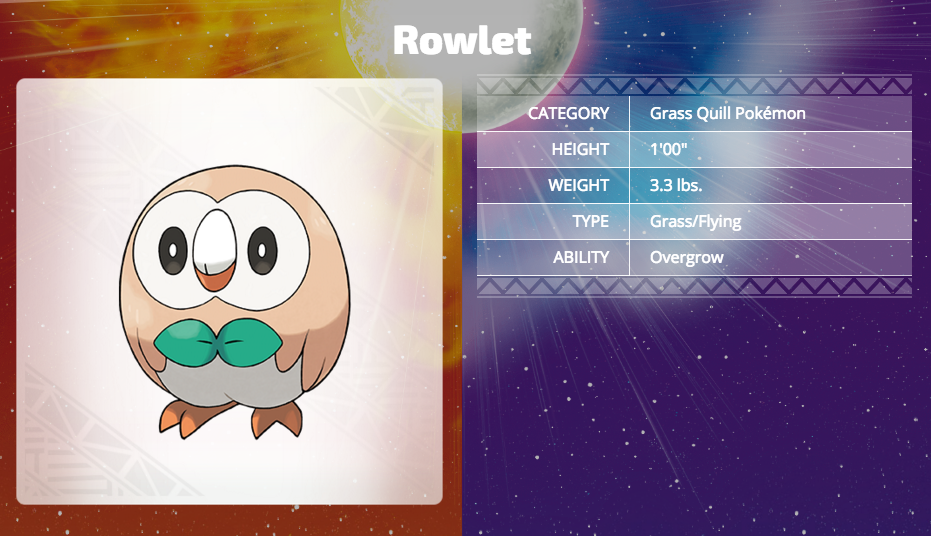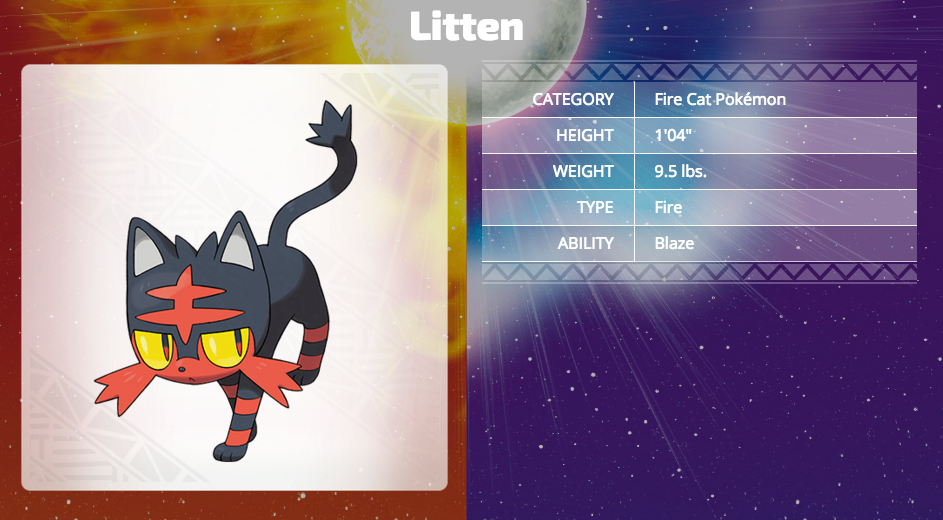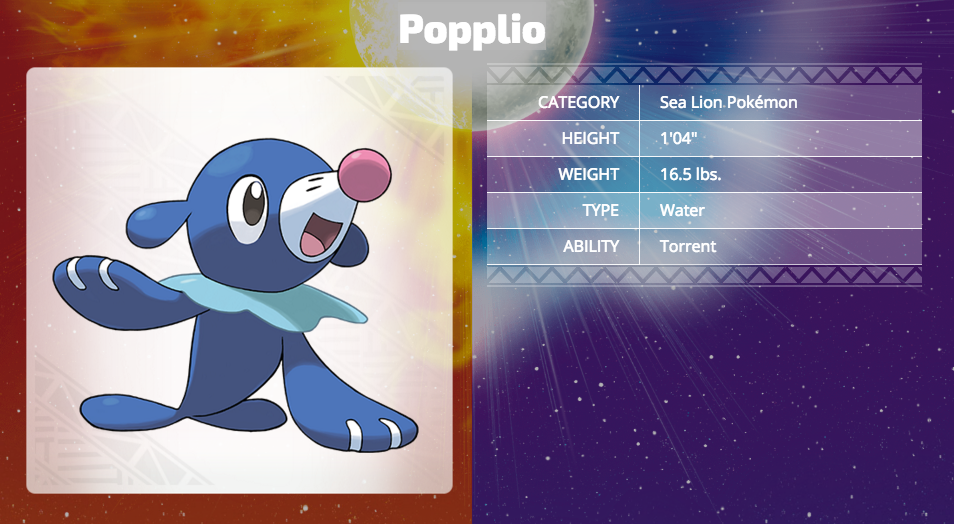 Pokemon Sun and Moon Roster
That Pokemon Sun and Moon demo may have revealed more than Nintendo anticipated. 
Users have been datamining the demo for information about the latest Pokemon title and were rewarded for their efforts with a mountain of details. While none of this information is confirmed by Nintendo, reports from these users suggest that the game will feature 800 Pokemon, eight Ultra Beasts, pre-evolutions for the Legendary Pokemon, and much more. 
If you're interested in the full scoop, the YouTube channel Kaphotics has been uploading videos that detail just about every new detail learned from the demo. 
Pokemon Sun and Moon Region
The trailer also gives us a taste of the new Alola region, which looks to be full of tropical jungles, beaches, and shimmering city landscapes. Here are some screenshots of the new region: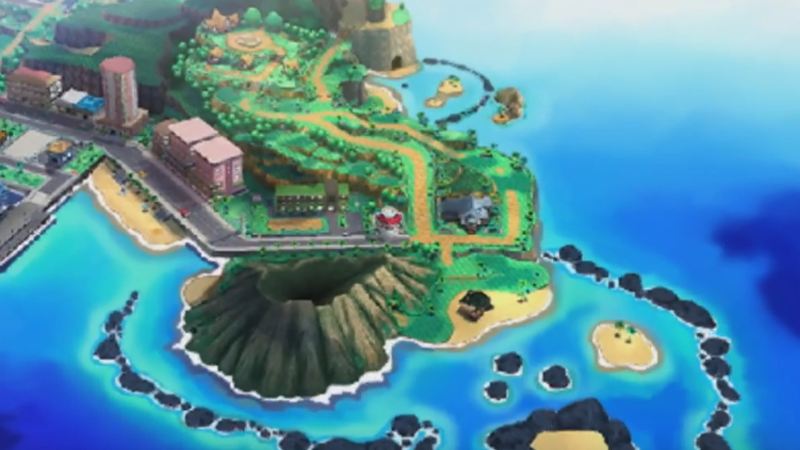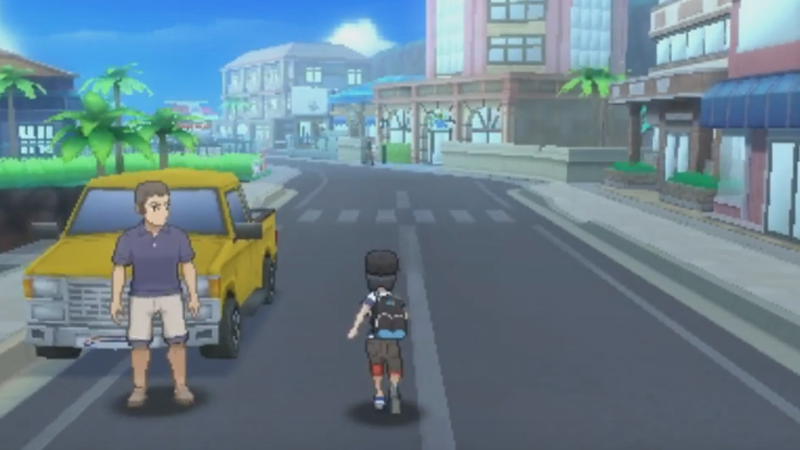 Pokemon Sun and Moon Box Art
Check out the box art for both Pokemon Sun and Pokemon Moon: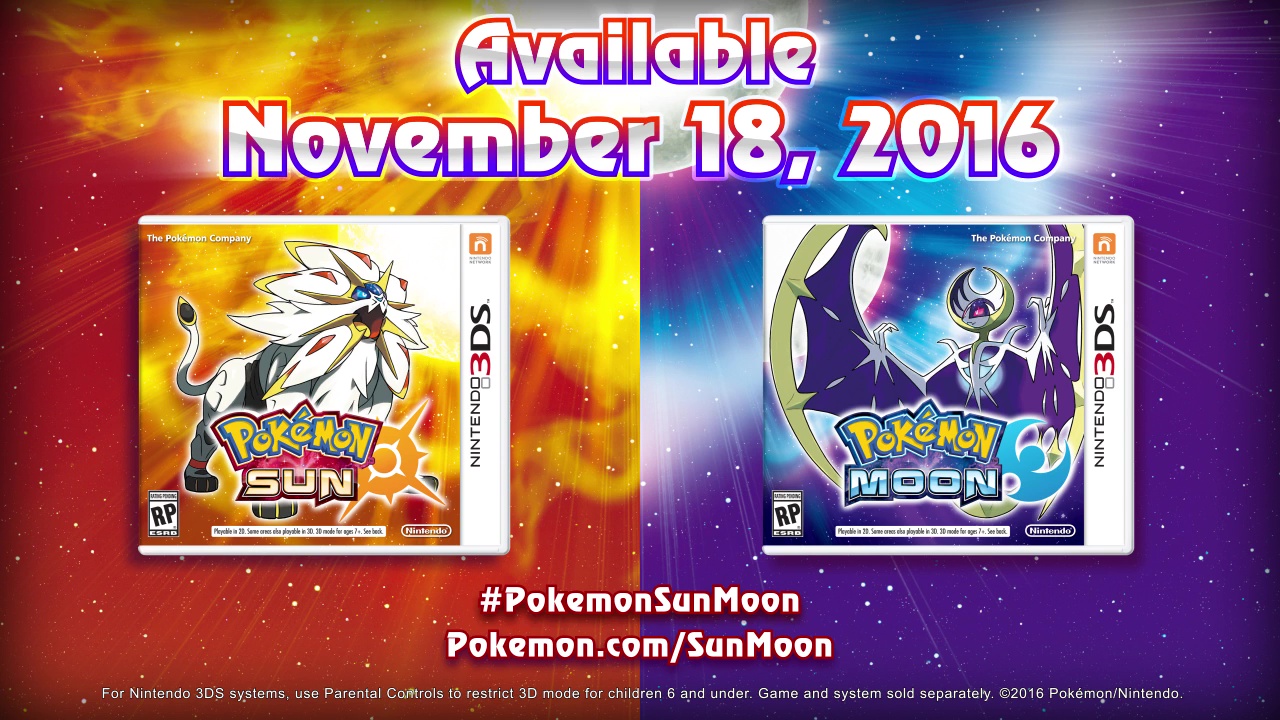 The Rest
It appears there truly is no stopping the Pokemon franchise as Nintendo has announced that Pokemon Sun and Pokemon Moon are the most pre-ordered games in Nintendo history. 
Nintendo did not share the exact pre-order figures, but they did compare the pre-orders for Sun and Moon with those of Omega Ruby and Alpha Sapphire via graphs. These graphs reveal that the upcoming Pokemon titles are doing especially well in the United States and Europe in comparison to those games. They are lagging slightly behind in Japan, however. 
Sun and Moon will need to sell more than 15.64 million units to beat X and Y as the best-selling 3DS Pokemon games. Given that the game's demo has been downloaded a staggering 3.5 million times, they may very well be on their way.