News
PC Classic Mini Console Lets You Play DOS Games
The PC Classic will make you wonder if mini consoles have gone too far.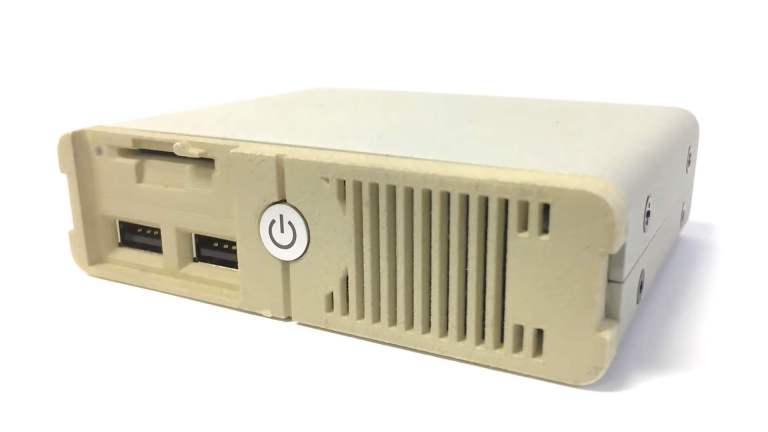 Here's a strange one for you. It seems that someone is working on a PC Classic device. 
In the style of the NES, SNES, and PlayStation Classics, the PC Classic is a miniature device that allows you to play retro games. In this case, it lets you play DOS titles from the '80s and '90s. The device itself is designed to resemble an '80s/early '90s PC (complete with a classic chain smoker beige color scheme). 
Unit-e, the group designing this device, have stated that they intend to start crowdfunding the PC classic before the end of the year. As such, we don't have much concrete information available regarding its price, release date, or which games it will ship with. However, it seems that the plan is to ship it with at least 30 pre-installed games. The trailer for the PC Classic suggests that games such as Doom may be included among the initial list of titles. It also sounds like the currently planned price point for the PC Classic is $99. However, that is subject to change. 
Now that we've got some of the facts out of the way, let's take a moment to look at why this is a pretty awful idea. 
First off, unlike the consoles the SNES, NES, and PlayStation Classic are based on, there's a very good chance that you actually own a PC. As such, we're not entirely sure why you would want a very limited retro PC device that can only play games on top of your PC that can quite easily run nearly every game that will likely be included in as part of this device. We're also willing to be that you'll be able to get the games included with the PC Classic for much cheaper if you buy them individually. 
We suppose that there might be some people out there who are interested in hooking this device up to their living room TV, but it's really not that difficult to use a modern PC on a TV (especially if you're willing to spend $99). All things considered, this device appears to be targeting a very niche market. We're certainly not opposed to the idea of more gaming platforms receiving the Classic treatment, but this particular idea seems to be pushing the acceptable limits of the concept. 
Matthew Byrd is a staff writer for Den of Geek. He spends most of his days trying to pitch deep-dive analytical pieces about Killer Klowns From Outer Space to an increasingly perturbed series of editors. You can read more of his work here or find him on Twitter at @SilverTuna014.