News
PAX East 2014: Day 2
From Child of Light to Transistor, this jam-packed day at PAX was big on great games!
It's been a wild ride here at PAX East 2014 so far, and Den of Geek has been covering the showroom floor and getting the lowdown on all of the latest and greatest new games that are going to be filling up our schedules in the very near future. Today we took a look at a whole bunch of fun indie games, and we've found more than a few new favorites in the process. If you happened to miss our first day of coverage, then you can get up to speed real quick by clicking this handy dandy link. For everyone else, keep on reading to hear our thoughts on how we spent our second day at PAX East 2014!
Our first game of the day was actually a happy little accident when we randomly stumbled upon a game being demoed on the Wii U called Swords & Soldiers II from developer Ronimo Games. We had missed out on Swords & Soldiers the first time around, which was pretty dumb on our part, because this sequel turned out to be so much fun. A real-time strategy game that plays out on a sidescrolling plane, Swords & Soldiers II follows a tribe of lovable Vikings, who just want to play a rousing game of golf when a legion of bad guys starts piling in through portals (some of which are stationed on the backs of giant sleeping lizards).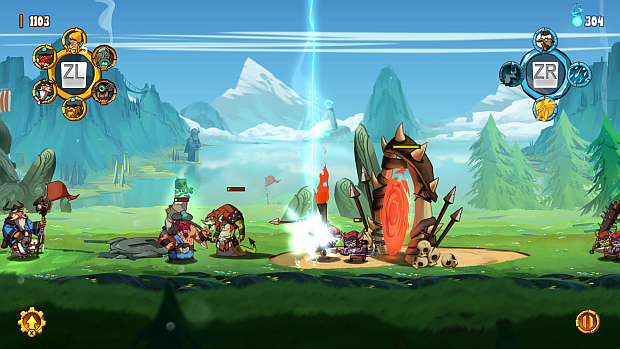 But beyond the gorgeous graphics, the smooth controls, and the fun and amusing sense of humor, the game is just downright smart. For instance, at one point we used one of our magic powers to turn an approaching goblin into a harmless sheep for a few seconds. Now, before he turned back into normal form, we quickly used our lightning power on the sheepified baddie and turned him into a juicy piece of meat, which then helped to heal our own troops as they marched forward to victory. Swords & Soldiers II is going to make an excellent addition to the Wii U's catalogue of downloadable games once it gets exclusively released for the system in the months down the road.
After that it was time for our first big meeting of the day. So we headed upstairs to sit down with Blizzard Entertainment and play a bit of the upcoming Diablo III: Ultimate Evil Edition on PS4. The current-gen console debut of the game includes both the original Diablo III experience, as well as the newly-released Reaper of Souls expansion content. In addition, we also got a glimpse of a few new game features that will be making their way into the PS4 build, like three different forms of asynchronous multiplayer, a quick and intuitive means of moving through the inventory interface using the PS4 controller's Touchpad, and even the controller's Light Bar synching up with your character's designated color.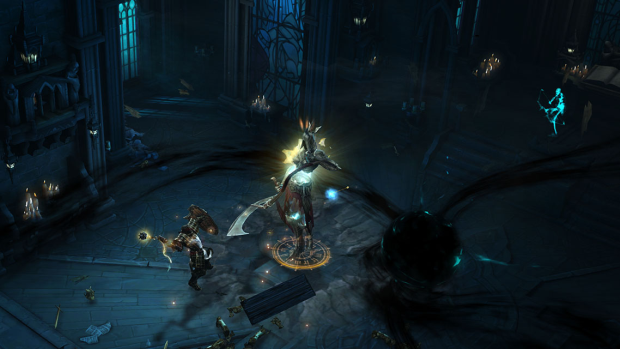 We also managed to embarrass ourselves a bit in front of the Diablo devs by letting the very first Treasure Goblin we saw slip right through our fingers, but then somewhat redeemed ourselves a few minutes later by laying the smackdown on the second. Even so, there was just something so great about playing Diablo III with a PS4 controller in hand. Not only did the game look amazing running in native 1080p HD, but the controls just had a fresh and incredibly sharp new feel to them. Diablo III: Ultimate Evil Edition will be launching on PS4 sometime in 2014.
We had a little extra time before our next meeting, so we decided to go back and see what other great indie games we could find. If you stepped one foot inside the Indie Megabooth this year at PAX East, then you undoubtedly felt the immediate presence of what have to be the two biggest indie games on the entire show floor: Supergiant's Transistor and Capybara Games' Below. In fact, every time we passed by these two booths in particular, the lines of anxious gamers waiting to play were always at full capacity. But today we finally managed to make our way to the front of the queue and get our hands on these two hotly anticipated titles, and boy are we glad that we did!
Supergiant first burst onto the gaming scene in 2011 with the revered and decorated Bastion, and their upcoming game Transistor serves as a shining amalgam of everything they've learned so far, while still pushing the envelope further in almost every way. It's hard to even believe it, but Transistor is even more stunning to behold than Bastion was, and the good news is that you'll only need to wait just a few more weeks to play it, as the game will be officially coming out on May 20 for PC and PS4. Below, on the other hand, is a more in-depth and quiet beast, and one that is surely going to have people talking for quite some time to come. The procedural dungeon crawler is just layered with complexities, intricacies, and above all else, beautiful mystery. There's no release window as of yet, but we'll be sure to keep an eye on it for the long haul.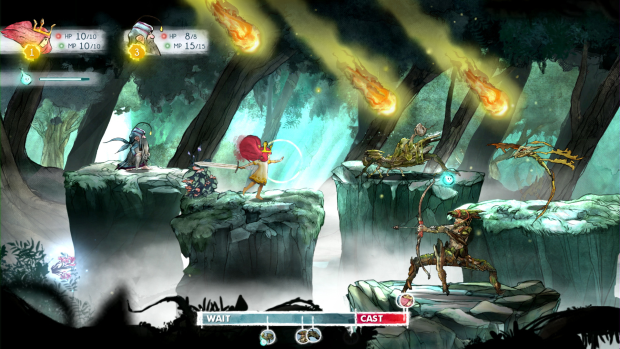 Next we made our way over to the Ubisoft corner of the showroom. Watch Dogs oddly wasn't available in playable form, which was a bit strange to say the least given the game's release is only a month and change away, but we did get some hands-on time with The Crew and Child of Light. The latter was easily the highlight of this time block, as the platforming and JRPG-hybrid was not only stunning to watch, but extremely rewarding to play through. Imagine an ethereal version of Rayman Legends with NPCs and turn-based battles and you've got a basic idea of what Child of Light has in store here. But one of the key components to the game is a playable second hero that's controlled independently using the right joystick, and who is used in everything from snagging out-of-reach collectables to even slowing down enemies during the battle scenes.
After that we managed to spend some time with another highly talked about indie darling: Shovel Knight from Yacht Club Games. Being the huge Mega Man fans that we are, Shovel Knight speaks to the retro platformer gamer in all of us, by offering up a wonderfully sweet and challenging old-school sidescroller experience. And not only that, but the game also brings a few new ideas to the table, like the many ways in which you'll use your titular shovel weapon, from bouncing on bubbles to digging up gems out of dirt mounds. The game is going to be coming to PC, Wii U, and 3DS, the last of which we got to play and check out the eye-popping 3D layers firsthand. No official release date has been given for the game other than "soon."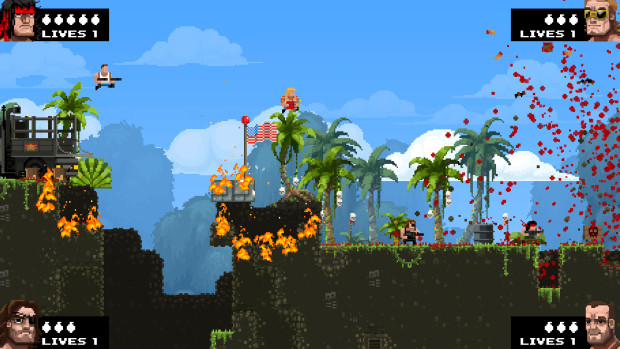 One of the biggest surprises of the day came from a little indie gem called Broforce, which we could hardly tear ourselves away from. The couch co-op game sort of feels like Contra but set in the destructible and pixelated world of Terraria, and yes, it's every bit as awesome as it sounds. The gameplay is fast, challenging, and addictive, as you pummel your way through lightning-fast environments, raising American flag checkpoints as you go. There are 19 different playable "bros" at this stage of development, and you'll be cycling through them as you rescue more in the actual levels or meet your untimely (and explosive) demise. All of the bros themselves resemble some of the greatest 80s action heroes the world has ever known, like Chuck Norris, Mr. T, Arnold Schwarzenegger, and even Rambo himself, each with their own unique weapon set.
So there you have it: a nice little look at some of the big AAA games coming up on the horizon, and a whole lot of indie love at PAX East 2014 today. If you've been attending the conference yourself this year, then be sure to hit the comments and let us know about all the great games you've gotten to play so far this weekend. And so now, I guess the only thing left to say is this: bring on Day 3!
Like us on Facebook and follow us on Twitter for all news updates related to the world of geek. And Google+, if that's your thing!