News
Paladins Coming to Nintendo Switch in June
Paladins for Switch looks like a faithful port of the incredibly popular team shooter.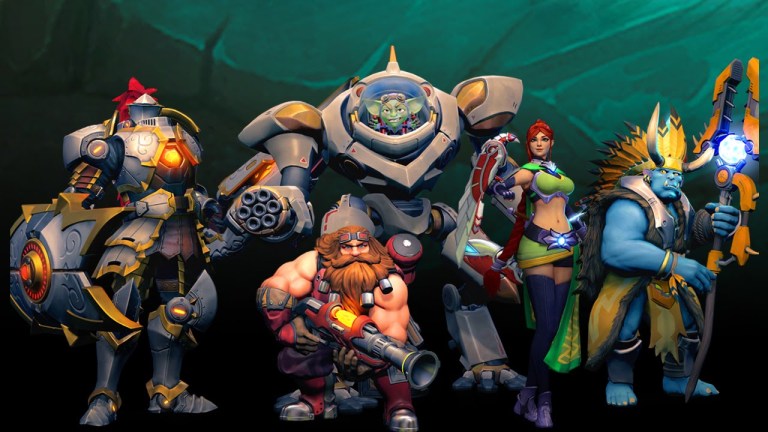 Paladins, the team-based shooter from Hi-Rez Studios, is coming to the Nintendo Switch. 
Paladins was released at that time when every team-based game that wasn't Overwatch was forced to live in Overwatch's shadow. Since then, though, the game has attracted a sizeable fanbase. Like many team-based action titles, Paladins requires players to choose one of many heroes that are divided into several classifications (such as front-line, damage, and support). In order to win in any of the game's various competitive modes, players must coordinate with their teams in order to maximize the abilities of their individual heroes. 
One element that has always separated Paladins from the team shooter pack is its use of a collectible card system. These cards are added to a heroes' loadout before the match and grant a variety of enhancements based on which combination of cards you choose. It adds a deckbuilding component to the experience that results in a surprising amount of additional strategies to consider. 
The Nintendo Switch version of Paladins looks to be a pretty faithful recreation of the game's core experience. It will even reportedly run at 60 FPS on Nintendo's console and offer cross-play with Xbox One players. One major difference with the Switch version, though, is that it will not initially be available as a free-to-play title when it launches for Switch on June 12.
Instead, Switch owners who wish to play the game at that time will need to purchase a $29.99 "Founder's Pack" that includes access to all of the game's 36 champions, the ability to immediately use all future champions, and a host of cosmetic items. The free-to-play Switch version of Paladins will reportedly launch sometime during the summer. 
Those who do purchase the game early should have no trouble finding people to play with and against. While we don't know Paladins' exact Xbox One player count, there are reportedly around 25 million registered Paladins players across all current platforms. The release of the Switch version should only help that number grow.