News
Overwatch Pink Mercy Skin Raises Almost $10 Million for Breast Cancer Research
Sales of Overwatch's most popular character skin are going towards a great cause.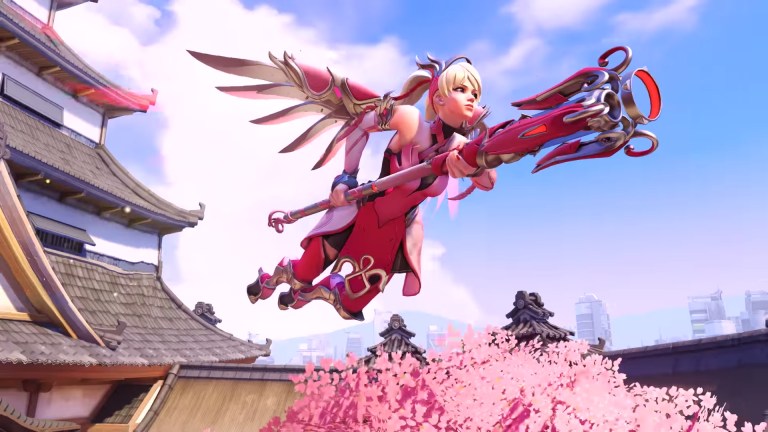 Recently, Blizzard started selling a special pink Mercy skin in Overwatch designed to raise money for the Breast Cancer Research Foundation. Initial reports indicate that the program has been a tremendous success. 
The Overwatch Twitter account recently sent out a message that thanks fans for purchasing the Mercy skin and reveals that sales of the skin are nearing the $10 million mark. Considering that the skin costs $15, that likely means that over 650,000 people have purchased the skin thus far. Blizzard is also selling a special pink Mercy shirt in their stores, but sales of that product have not been disclosed at this time. 100% of those proceeds from both of these items are going directly to the BCRF, despite some initial claims that Sony was taking a percentage of sales made via PlayStation consoles. 
It's hard not be impressed with the results that Blizzard has announced thus far. We know that Overwatch players love in-game skins, but the response surrounding the sale of this charity skin is nothing short of astonishing. It's a testament to the Overwatch community's desire to contribute to this cause as well as Blizzard's ability to recognize an incredible opportunity to do some good. 
The other thing that these figures reveal is just how much Overwatch players love in-game skins. We have no doubt that the desire to contribute to this cause was the reason that the majority of those who purchased this skin decided to do so, but figures like these do shed a little light on the "value" of digital Overwatch skins in the minds of the game's biggest fans. 
Of course, Blizzard isn't just contributing to this cause by selling skins and t-shirts. They've also been using this promotion as a chance to highlight many of the female streamers in Overwatch's community. Indeed, the Overwatch community has seemingly attracted a much larger number of female fans, players, and streamers than some other competitive games. The Overwatch League even recently welcomed its first female player.
Blizzard has stated that they intend to reveal the full amount of money earned from this promotion after sales of the skin end on May 21, and we fully expect that the $10 million figure will only have grown at that time.