News
Overwatch Patch: Anniversary Update Includes Skins, New Map, and Character Changes
The latest Overwatch update is a celebration of every Overwatch event released so far.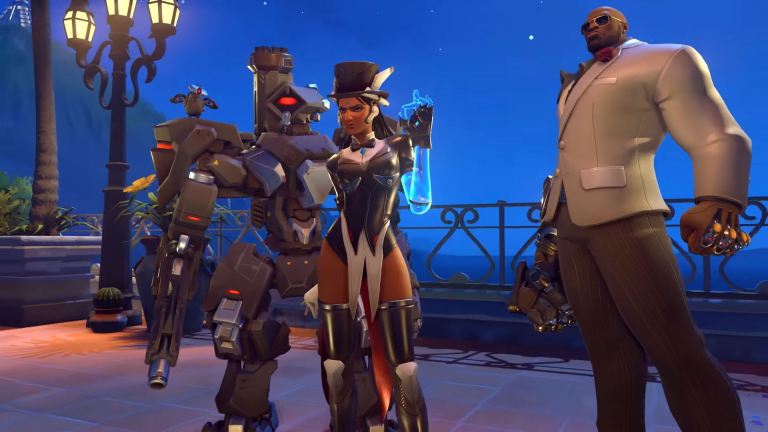 Overwatch's latest patch includes the anticipated arrival of the Overwatch Anniversary 2018 event. 
Among the many updates this patch features is the new Deathmatch map, Petra. Petra sees Deathmatch players battle at an excavation site while avoiding a rather ingeniously placed collapsable floor that drops into a pit. On top of that, there's a new competitive FFA Deathmatch mode that features placement matches, ratings, leaderboards, and more. Petra is not playable outside of casual and competitive Deathmatch, and this update does not include the official introduction of the Rialto map that is currently playable on the game's PTR servers. 
Fans of Overwatch character skins are in luck as this new event not only introduces eight new legendary skins – and three new epic skins – but allows players to purchase every skin from every event in Overwatch history. Past skins are available at base prices (meaning that old legendary skins cost 1,000 coins) while all new skins are selling for the inflated price used for new events (meaning that new legendary skins cost 3,000 coins). Those past character skins can also be unlocked via the game's loot boxes if you don't already own them. There's also a guaranteed legendary skin in every free loot box that you get just for logging in during the event. 
On the competitive side of things, the latest Overwatch patch includes a few character changes that should help improve some recent imbalances. For instance, Ana has received a long-awaited buff that raises her ammo count from 10 to 14 and allows her projectiles to go through allies that are already at full health (meaning they can no longer block her shots if they have no benefit to the player). Meanwhile, new character Brigitte has received a nerf that decreases the maximum armor her teammates can receive (from 150 to 100) and increases the cooldown on her Shield Bash ability from 5 seconds to 6 seconds. Finally, Hanzo's new Storm Arrows ability has been nerfed slightly as arrows now deal 70 damage (down from 80). 
If you're interested in the full patch notes, you can find them over on the Overwatch website. 
While there's nothing unexpected in this patch – the character skins were leaked just ahead of its official release – many of the new skins are impressive and the addition of a competitive Deathmatch mode might prove to be the sleeper hit of this update.