Features
Cyber Monday Nintendo Switch deals: Save £30 on the Super Smash Bros bundle
The Nintendo Switch is innovative, exciting and - thanks to these deals and bundles - not as pricey as you might think.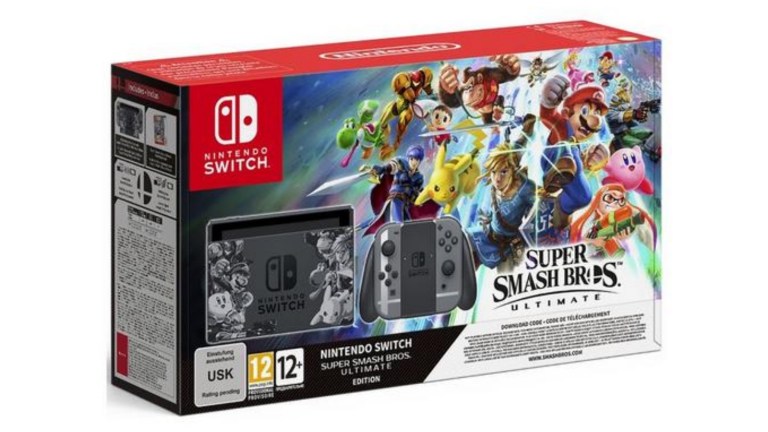 If you're someone that loves gaming and you don't have a Nintendo Switch yet, chances are that you've considered getting one. From the open world awesomeness of Zelda: Breath Of The Wild to the franchise-enlivening fun of Super Mario Odyssey, this versatile little console has a lot going for it. And that's not to mention all the exciting new games, which include Pokémon: Let's Go and Super Smash Bros Ultimate. 
As with any relatively new games console, though, buying a Nintendo Switch can seem like a costly investment when you look at the RRP. So, to try and save you a few quid and to help you get the very best value for money, we've had a trawl through the internet and collected the very best Black Friday Nintendo Switch deals. To peruse our wallet-friendly findings, read on…
Save £30 on Pokémon or Smash Bros bundles
Using the discount code 30OFF at Very can save you £30 on the Super Smash Bros Ultimate pre-order bundle, bringing it down from £329.99 to just £299.99. This same offer code did work on Pokémon: Let's Go bundles, both the Pikachu and the Eevee editions, but Very is out of stock on those ones right now.
Build a bundle for £330
Alternatively, over at the official Nintendo website, you can compile your own bundle for the price of £330. You get the console, a case and the game of your choice from a pretty impressive selection. Recent releases such as FIFA 19 and Mario Party are among the choices, as are family favourites like Mario Kart.

Save £19 on LEGO DC Super Villains and Sports Party
GAME has quite a wide selection of Nintendo Switch bundles, which spans various levels of appealing bargain-tastic-ness. Our favourite choice is the bundle that gets you the console, Sports Party and LEGO DC Super Villains for £309.99. That's a saving of £18.98, providing an affordable way to get started with the Switch.
Get £30 off the standalone console
If you just want to buy the console on its own and sort the games out yourself, Amazon and Currys are offering the best price: you can get a Switch console from either Amazon or Currys for just £249. Elsewhere on the web, GAME and Zavvi will sell you a Switch for £259.99, which still counts as a discount on the RRP of £279.
Even more Switch deals!
You'll find further Nintendo Switch deals, including discounts on controllers and games, in the magical box below…
We also have articles about PS4 deals and Xbox One deals, if those are your cup of tea!