News
Our first impressions of the Groundhog Day VR game
We stepped into the shoes of Bill Murray's character's son in the demo for Groundhog Day: Like Father, Like Son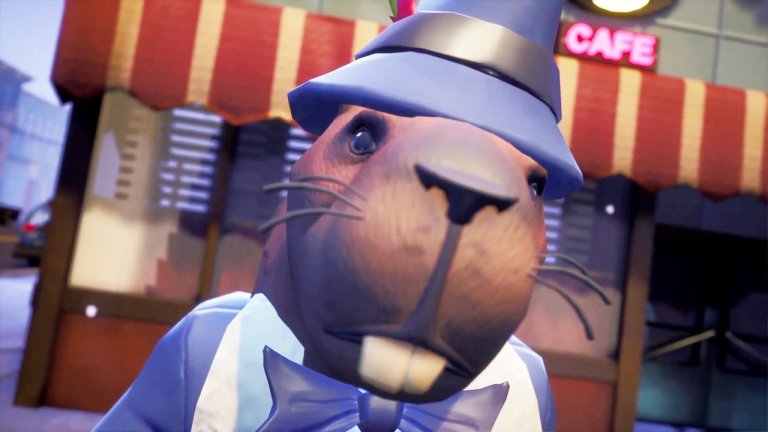 At Gamescom 2019, Den Of Geek popped over to the PlayStation VR area to gets some hands-on time with Groundhog Day: Like Father, Like Son. This VR game was developed by Tequila Works and MWM Interactive and published by Sony Pictures VR. It launches today around the world.
The game positions itself as a straight-up sequel to the much-loved Bill Murray feature, with players taking on the role of Phil Connors Jr, the son of Murray's iconic character. Born after the events of the original Groundhog Day story, Phil Junior grew up in the shadow of his universally adored father, who spent an eternity reliving the same day until he got it right. His dad, who snared the love of his life and learned such skills as expert piano-playing on that fateful day. He went on to become something of a legend, although no one really believed his story of being trapped in a time loop.
As a result, Phil Junior grew up with something of a chip of his shoulder. But guess what? Yep, in the game, he is thrust into the exact same unlikely adventure as his old man: he's thrown into his own time loop and has to live the perfect day in order to get out of it.
The game's way of realising the skill-mastering nature of the franchise's central concept is this: although there is a core narrative for players to work through, there is also an array of minigames that you must complete if you want Phil to escape his time loop. With all of this explained to us, we popped on a VR headset and tried our hand at three of the minigames from the Groundhog Day VR game.
The first minigame we jumped into was a slightly odd one, which hints to a sense of surrealness in the game. Taking place in a mystical plane within a broken coffee machine, this minigame tasks players with blasting balls of heat in the direction of flying coffee beans. It starts off easy, but soon there are moving parts to contend with and multiple beans that you have to try and blast simultaneously. It becomes a case of careful timing and inch-perfect precision, as the levels of the minigame progress and your mastery of the mechanics grows.
Next up, we jumped into a more literal spin on the same task: we were still trying to fix a coffee machine in the local diner, but now it was less of a cerebral job. It was now a case of connecting cables in the correct way, putting pieces together perfectly, and lining things up so the coffee machine can work effectively. Then, when everything was sorted, we had to pick up the mug and put it in the right place. We pulled a lever and – voila! – coffee came out. With the machine fixed in both a physical and sort-of-magical way, we could now give a cup of coffee to the disgruntled chap nearby and make his day that little bit brighter.
Finally, the third minigame took us out of the diner and out into Punxsutawney itself. Out on the street, we met up with a young lad that fancies himself as a graffiti artist. Phil's task in this environment is to use a stencil and spraypaint can to produce a picture-perfect image of a groundhog on a nearby wall. Staying within the lines is advised, and there are various different colours of paint to choose from. There's a bit of a learning curve, and it will probably take more than one go for you to absolutely nail the task. We didn't quite get that far, and the kid walked off in a disappointed sort of way. Back to square one, then!
This was only a brief demo, but the game did make a strong case for itself. The cartoonish art style is pleasing on the eyes, and playing through the minigames is an enjoyable way to spend a bit of time, especially since every task that you master brings a bit more brightness to the community. We haven't had a chance to play the full game yet, but we're intrigued enough to want to jump back into the time loop and give it a go. Here's hoping that we do Bill Murray proud.
Groundhog Day: Like Father, Like Son is out now for PSVR, HTC Vive and Oculus.