News
No Man's Sky Trailer Reveals Upcoming Updates
No Man's Sky is getting a bit of a revamp, thanks to the upcoming NEXT update. Here's your first look...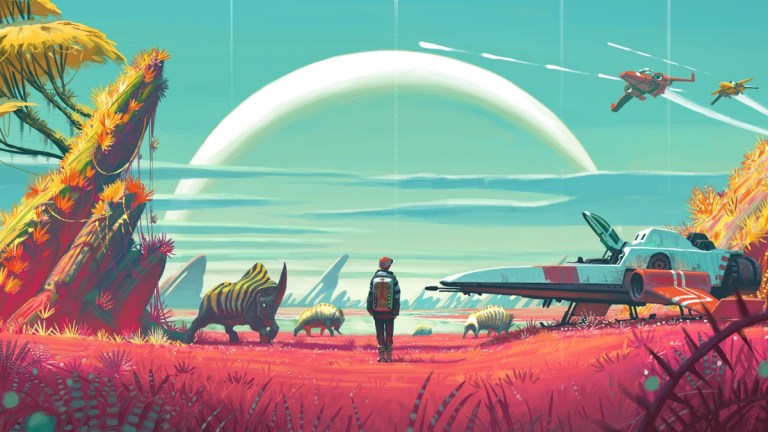 No Man's Sky is coming to Xbox One alongside a massive update to the base game itself. The update, called No Man's Sky Next, is being referred to as the biggest addition of features to the game yet. It arrives on July 24.
Check out the trailer for the update:
According to No Man's Sky creator Sean Murray, the team decided to call this update Next because "it's an important next step on a longer journey for us and the community." He goes on to say that the team has been "working their socks off" on this update and that it will be free to No Man's Sky owners. 
The Next update introduces online multiplayer to the game. Players will be able to explore the galaxy and go on quests together, as well as build bases (you can build them anywhere you want and have multiple bases across the galaxy) and much more. A new third-person perspective is also being added to the game. Best of all, you can interact with random players during your travels — and even fight them. 
The Xbox One version of the game will feature HDR and 4K support as well as every major content update released for the game thus far (which includes the Foundation, Pathfinder, and Atlas Rises updates). 
"We've learned a lot over the last few years, faster than we would have liked!" said Murray. "I'd love to avoid talking completely and just make things people can play, but we knew this was going to leak anyway, and I think it's news that should make a lot of folks happy."
That statement – as well as some statements in the official press release – seem to be the team's way of referencing the controversial launch of No Man's Sky. As you might remember, the game was blasted by many for its overall lack of content and for not living up to some of the ambitious promises that preceded its highly-anticipated release. There was a time when the game looked to be dead and buried. 
However, a series of regular updates to the game have brought No Man's Sky closer to becoming the experience that it probably should have been at the start. We're eager to see whether or not this next update will bring the game even closer to being a title worth coming back to even if it burned you initially.