News
Nintendo Switch Milk Mini-Game Trailer Is Udderly Bizarre
The uncanny valley is populated by cows.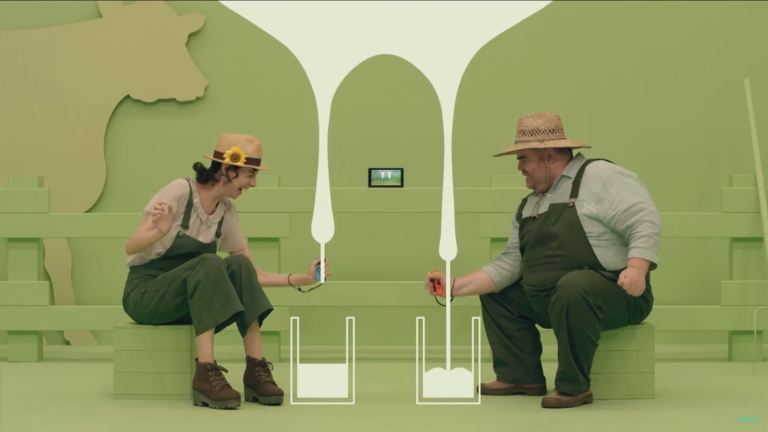 If you were one of many that stayed up late/woke up early in order to watch the highly-anticipated Nintendo Switch reveal event, you may have been a bit surprised to see that the first game featured during the presentation was none other than a curious little game called 1-2-Switch. 
For those who don't know, 1-2-Switch is a competitive minigame collection that seems to draw inspiration from titles like WarioWare and Johann Sebastion Joust. Much like Wii Sports, it's designed to be a kind of sampler that will allow new Switch owners to explore the unique capabilities of their new consoles. That's a great addition to the Switch's launch lineup, but it was a bit odd to see Nintendo start the Switch reveal with such a simple game. 
Now, if they had started the presentation with this trailer for the milking mini-game included in 1-2 Switch, they may very well have broken the internet as well as a few hardware sales records:
For reasons that remain largely unknown, Nintendo has chosen to highlight the cow milking minigame included in 1-2 Switch. This minigame will require players to pull down on their Switch controllers while pushing the side-buttons in order to successfully draw milk from their digital bovine. The player who draws the most milk wins. 
Putting aside the bizarre nature of the game's presentation – every actor has to take the occasional payday – the question becomes, "Just why did Nintendo feel this particular minigame required a separately produced trailer?" Granted, we're just as excited as you are that gaming technology finally allows for realistic milking technology, but we doubt anyone will ever get the enjoyment from this game that the actors featured in the Milk trailer seem to be getting.