News
Nintendo Switch Games: What's Confirmed and What's Coming Out at Launch
Wondering what games are coming to the Nintendo Switch's library? Here's what's coming out and when you can get it...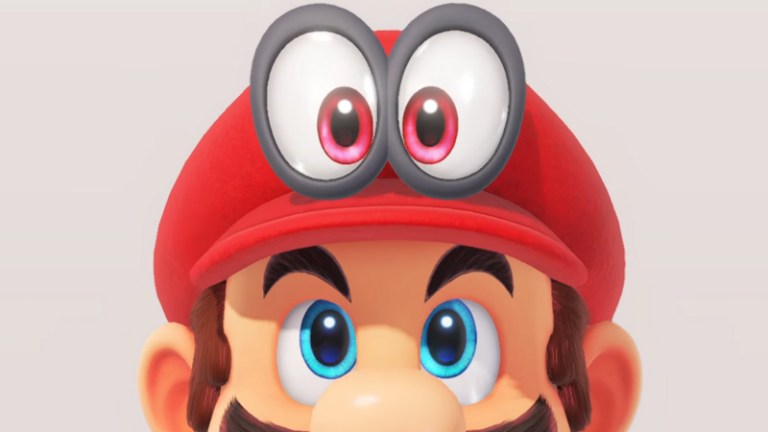 As Nintendo undoubtedly knows, no matter how powerful or how sleek the design of the hardware, a console's fate is decided by its library of games. A healthy combination of first-party exclusives and third-party support is the key to any console's success, something the Wii U learned the hard way – as the console lacked the third-party library to fill in the gaps in the release calendar and died a slow and miserable death. 
The Switch, the company's new console, which is out on March 3, will have turn over a new leaf and deliver plenty of new experiences while also giving a lot of love to its established franchises. The console will launch with a new Legend of Zelda, and will also have a new 3D Mario game by the end of the year. As far as third-party support, the console will have to count on Super Bomberman R, a new Square Enix JRPG, Sonic Mania, and several ports to fill in those gaps.
Below, you can find a full list of confirmed games for the console. Those games that will be available at launch in North America are in red.
Here are the games confirmed for the Nintendo Switch:
Game
Developer
Release Date
1, 2, Switch
Nintendo
March 3rd
1,001 Spikes
Nicalis
TBD
2 Fast 4 Gnomz
QubicGames
TBD
Arcade Archives
HAMSTER, Co.
TBD
Arms
Nintendo
Spring 2017
Audio Hero
QubicGames
TBD
The Binding of Isaac: Afterbirth
Nicals
Spring 2017
Blazblue
Arc System Works
TBD
Cave Story
Nicalis
TBD
Cube Life: Island Survival
Cypronia
TBD
Disgaea 5 Complete
Nippon Ichi Software
March 3rd (JP)Spring 2017
Derby Stallion
Parity Bit
TBD
Dragon Ball Xenoverse 2
Bandai Namco
TBD 2017
Dragon Quest X: The Five Awakening Races Online
Square Enix
TBD
Dragon Quest XI
Square Enix
TBD
Dragon Quest Heroes 1 & 2
Square Enix
March 3rd (JP)
Dungeon of Zaar
DungeonofZaar
TBA
The Elder Scrolls V: Skyrim
Bethesda
Fall 2017
Farming Simulator
Giants Software
TBD
Fast RMX
Shin'en
March 2017
FIFA
EA
TBD
Fire Emblem Warriors
Koei-Tecmo
Fall 2017
Fire Emblem Switch
Nintendo
TBA 2018
GoNNER
Raw Fury
TBA
Has Been Heroes
Frozenbyte
March 2017

Human Resource Machine

Tomorrow Corporation

March 3rd

Hydra Castle Labyrinth
Nicalis
TBA

I Am Setsuna

Square Enix

March 3rd

Jackbox Party Pack 3
Jackbox Games
TBA 2017
Just Dance 2017
Ubisoft
March 3rd
Kingdom
Raw Fury
TBA
The Legend of Zelda: Breath of the Wild
Nintendo
March 3rd
Lego City Undercover
Travelers Tales
TBD
Lego Worlds
Travelers Tales
TBD
Little Inferno
Tomorrow Corporation
March 3rd
Mario Kart 8 Deluxe
Nintendo
April 28th
Minecraft: Switch Edition
Mojang
TBD 2017
Minecraft: Story Mode – The Complete Edition
Telltale Games
TBD
Monster Boy and the Cursed Kingdom
FDG Entertainment
TBD
NBA 2K18
2K Games
September 2017
New Frontier Days: Founding Pioneers
Arc System Works
TBD
Nobunaga's Ambition: Sphere of Influence
March 3 (JP)
No More Heroes (Tentative Title)
Suda51
TBD
Oceanhorn: Monster of Uncharted Seas
FDG Entertainment
TBD
Project Octopath Traveler
Square Enix
TBD
Project Sonic 2017
Sega
TBA 2017
Puyo Puyo Tetris
Sega
Spring 2017March 3rd (JP)
Rayman Legends Definitive Edition
Ubisoft
TBD
Redout
Nicalis
Spring 2017
Rime
Tequila Works
Spring 2017
Riverside
Zocklabs
TBA
Romance of the Three Kingdoms 13
March 3 (JP)
The Sacred Hero
Simplistic Game Studios
TBD
Seasons of Heaven
Any Arts Production
TBA
Shin Megami Tensei
Atlus
TBD
Shovel Knight
Yacht Club Games
TBD
Skylanders Imaginators
Activision
March 3rd
Sonic Mania
Sega
Spring 2017
Splatoon 2
Nintendo
Summer 2017
Spelunker
March 3rd (JP)
Snake Pass
Sumo Digital
TBA 2017
Snipperclips – Cut it out, together!
Nintendo
March 2017March 3rd (JP)
Stardew Valley
Chucklefish Games
TBD
State of Mind
Daedalic Entertainment
TBD
Steep
Ubisoft
TBD 2017
Story of Seasons
Marvelous
TBD
Super Bomberman R
Konami
March 3rd
Super Mario Odyssey
Nintendo
Holiday 2017
Syberia 3
Anuman Interactive
TBD
Untitled Steamworld Game
Image & Form
TBD
Tank It!
Bplus
TBD 2017
Untitled "Tales of" Game
Bandai Namco
TBD
Ultra Street Fighter 2: The Final Challengers
Capcom
TBD 2017
World of Goo
Tommorow Corporation
March 3rd
Xenoblade 2
Monolith Soft
TBD 2017
Yooka-Laylee
Team17
TBD
Here's an official infographic from Nintendo outlining their release plans through the rest of the year: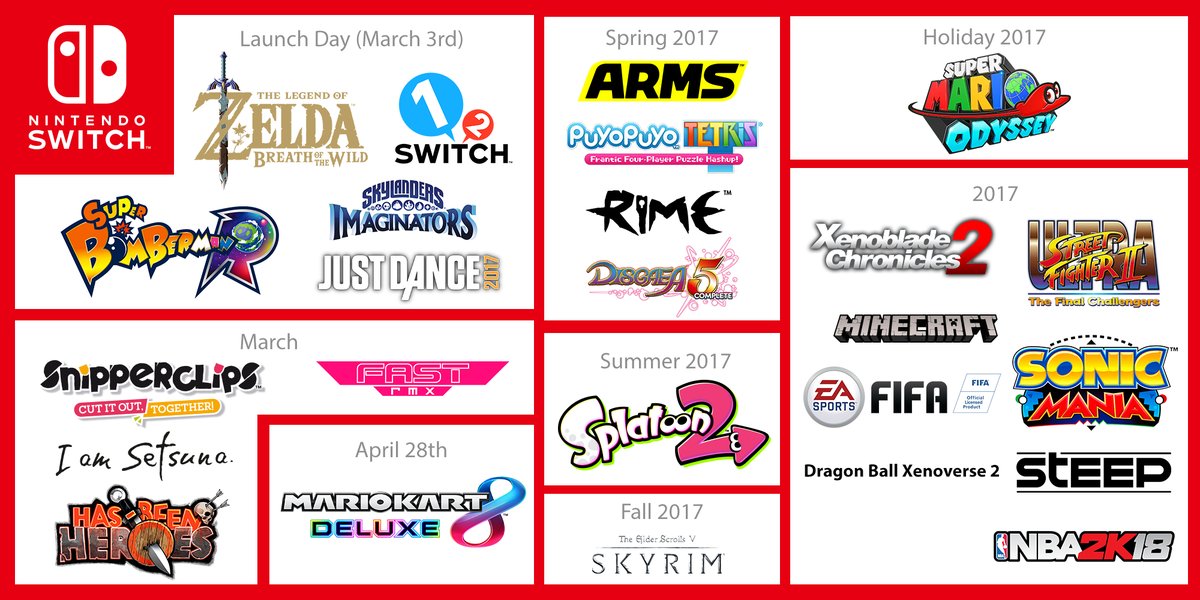 Nintendo has also made a point to show that the Switch has full third-party support, the lack of which really hurt the Wii U in the long run. Here's a sampling of the console's partners: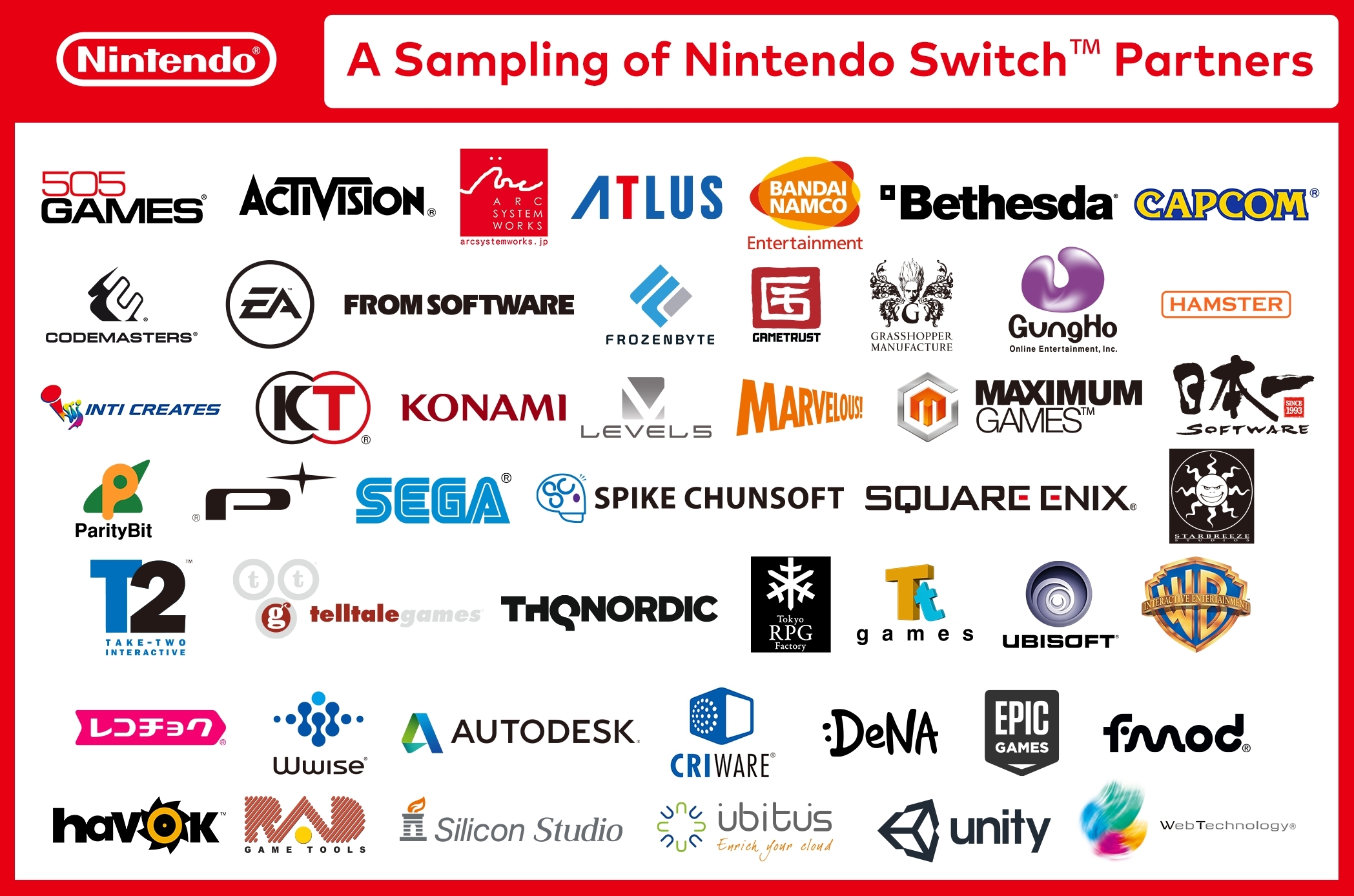 We'll keep updating this post as more games are announced!