News
Competitive Nintendo Switch Game Show Coming to Disney
Disney is producing a Nintendo Switch family showdown game show!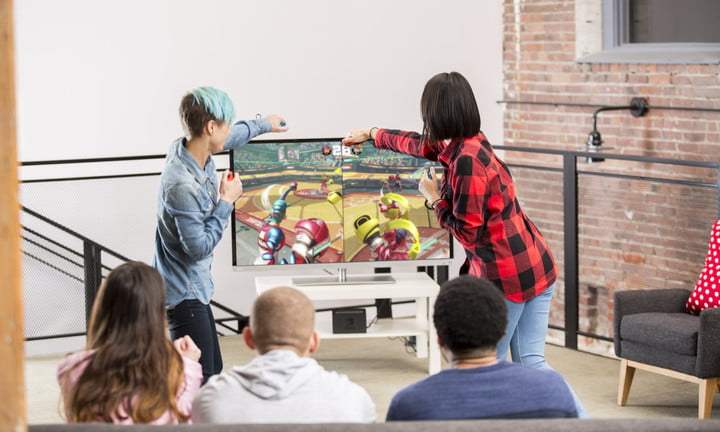 Nintendo and Disney are partnering up to reveal the Nintendo Switch's most surprising form yet; a family game show. 
Starting sometime this summer, Nintendo Switch Family Showdown will air on the Disney Channel, Disney XD, and the DisneyNOW streaming app. As implied by the name of the show, this series will see families do battle against in each other in Nintendo Switch games in order to win fabulous prizes. If this show is anything like classic Double Dare episodes, then it's safe to assume that said prizes will include a subscription to America Online, a lifetime of Chef Boyardee canned ravioli, and a Dodge Caravan. 
The format of the show isn't entirely clear at this time, but based on some of the information that has been revealed, it seems that the show's challenges will include such Nintendo Switch-related tasks as finding a certain number of collectibles in Super Mario Odyssey, winning a Just Dance competition, and simply being the best at Mario Tennis Aces. 
As you might expect, the games featured on this show will be of the family-friendly variety. That means no speedruns through L.A. Noire or Doom. We also suspect that this show won't mark the start of the Stardew Valley eSports scene that we've been dreaming of, but it's too early to rule out any possibilities with absolute certainty. 
While this is obviously a slick piece of marketing on Nintendo's part, that doesn't mean that this show won't be fun for the whole family (or at least the younger members of the family). Anyone who remembers the technical disaster that was Nick Arcade will surely recall that there's something darkly amusing about the concept of a video game-based game show, and we're certain that video game technology has advanced enough since the '90s to ensure that Nintendo Switch Family Showdown feature youngsters flailing about against a green screen. 
However, we do suspect that you're about to see a lot more 1-2-Switch on your TV than the average Switch owner is used to seeing.