News
Nintendo Releasing Strategy Guide Bundles for Zelda, Mario, and Splatoon
Nintendo is reviving the glory days of the strategy guide with three special bundles.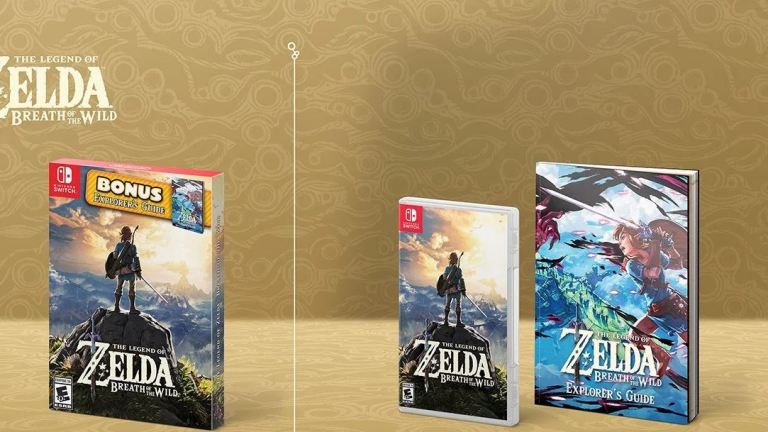 Nintendo is going old-school by releasing three popular Switch titles with included strategy guides. 
On September 28, Nintendo will release "Starter Packs" for The Legend of Zelda: Breath of The Wild, Super Mario Odyssey, and Splatoon 2. These Starter Packs include the game itself and a special strategy guide that seems to be much more than just a generic series of hints. Each book features unique artwork, fun designs, and a special name related to each game (Explorer's Guide, Traveller's Guide, and Splategy Guide for Zelda, Mario, and Splatoon, respectively). 
Each of these Starter Packs will retail for $59.99, which is actually kind of a good price in a relative way when you consider that Nintendo doesn't really drop the prices of their major games that often. You can probably find each of these titles for cheaper than full retail, but getting the book on top of that price isn't the worst deal out there (especially if you're buying these as a gift). 
However, it is worth noting that the guides for Breath of the Wild and Splatoon 2 have been released in the past as part of a Special Edition for each game. These appear to be the exact same guides, so there is no need to buy them twice even if you are a collector. The Mario one, though, is brand-new. 
Regardless, it's kind of fun to see Nintendo taking a stroll down this particular memory lane. While not every old-school game came with a strategy guide – Earthbound is an infamous example of one that did – it wasn't uncommon to see strategy guides released the same day as many popular games. Of course, this was back in the day (*hitches up old man pants*) when many games were designed to be confusing. As such, strategy guides were your only official solution for help in an internet-free world. 
The other way to view this deal is as a kind of elaborate return of the glory days when most games included elaborate instruction manuals that featured tips, special artwork, and story elements. 
Matthew Byrd is a staff writer for Den of Geek. He spends most of his days trying to pitch deep-dive analytical pieces about Killer Klowns From Outer Space to an increasingly perturbed series of editors. You can read more of his work here or find him on Twitter at @SilverTuna014. 
Read the latest Den of Geek Special Edition Magazine Here!