News
Nintendo of America President Reggie Fils-Aime to Retire in April
Reggie Fils-Aime, beloved president of Nintendo of America, is stepping away from the company.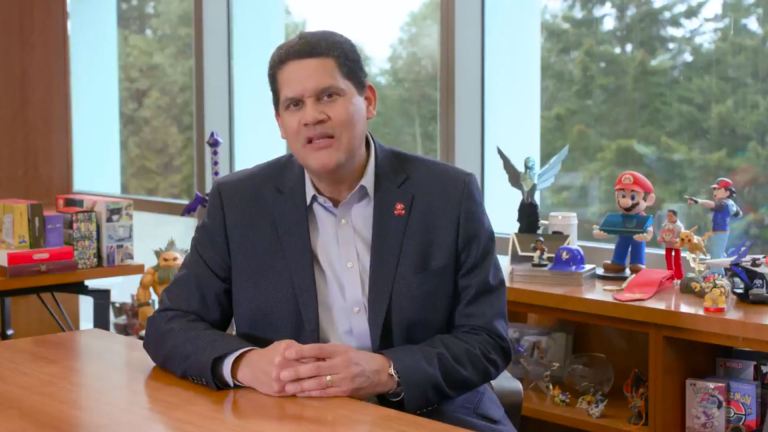 Nintendo Of America President Reggie Fils-Aime is retiring according to a press release sent by Nintendo. Information is still coming in on this shocking announcement, but Nintendo has confirmed that Fils-Aime will retire on April 15 and will be replaced by the aptly named Doug Bowser who currently serves as Nintendo's Head of Sales and Marketing. 
This is a truly surprising turn of events. Reggie Fils-Aimé joined Nintendo in 2003 as the company's Executive Vice President of Sales and Marketing. In 2006, he had the honor of becoming the first American to hold the office of President and Chief Operating Officer of Nintendo of America. 
However, most people probably remember him best from the time he took the stage at Nintendo's E3 2004 conference and said "My name is Reggie. I'm about kickin' ass, I'm about takin' names, and we're about makin' games." It was a bold declaration that the highest ranking members of the often frustratingly reserved and quiet Nintendo corporation would have never made. It was also a statement that helped galvanize the Nintendo fanbase at a time when questions loomed regarding the company's future. 
From there, Reggie would help Nintendo promote two of their most successful devices ever (the Nintendo DS and the Nintendo Wii) as the company took America by storm in a way that they really hadn't since the release of the Super Nintendo. Even as he and the rest of the company suffered through the rocky releases of the Nintendo 3DS and the Wii U, fans became excited to hear from Fil-Aime and industry insiders respected the way he became the face that the American branch of Nintendo so desperately needed.
Why Fils-Aime would leave Nintendo at a time when the Switch is becoming one of the company's another Nintendo phenomenon is the question at the moment. In the video below, Reggie states that he's doing this to spend more time with his wife and family. If you're looking for a deeper theory, though, it's possible that the new president of Nintendo's views regarding mobile gaming and the importance of consoles moving forward may not mesh with Fils-Aime's own views. 
Regardless, we wish Fils-Aime the best of luck moving forward and will bring you more information on this situation as it becomes available. 
Matthew Byrd is a staff writer for Den of Geek. He spends most of his days trying to pitch deep-dive analytical pieces about Killer Klowns From Outer Space to an increasingly perturbed series of editors. You can read more of his work here or find him on Twitter at @SilverTuna014.