News
Nintendo Labo: Release Date, Price, Trailer, and Everything Else We Know
Wait a minute, wasn't that robot just in an episode of Black Mirror? Meet Nintendo Labo.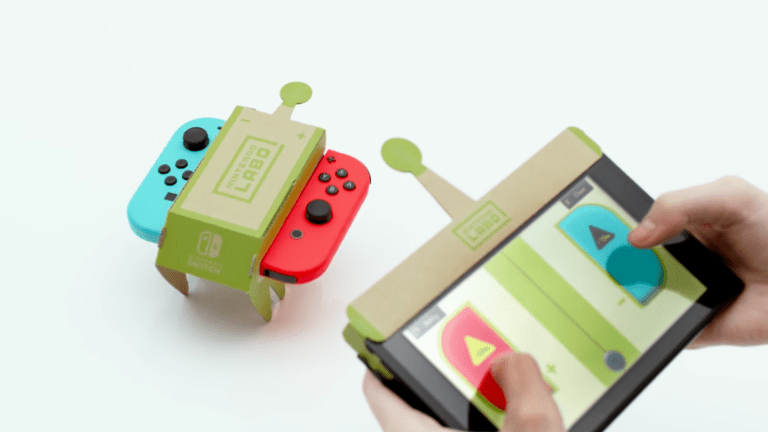 Nintendo has just revealed an outside the box Nintendo Switch accessory that utilizes…err…boxes. 
Here is the debut trailer for Nintendo Labo:

Nintendo Labo is quite honestly one of the most bizarre video game accessories that we've ever seen. Each Labo box comes with about 25 sheets of cardboard. These kits will include instructions on how to assemble the cardboard in such a way that allows you to design a controller for the included software. For instance, there is a driving game that comes with components that allow you to design a cardboard steering wheel. You then insert your Switch and Joy-Cons into the cardboard wheel and play the game. 
The simplest kits – like a remote-controlled car – take little time to assemble and seem especially geared towards a younger audience. The most complicate kits are an entirely different story. 
For instance, the fishing rod Labo actually turns into a semi-functional rod-and-reel complete with rubber band gears. There's also a robot kit that turns your controller into a cardboard robot capable of controlling a digital avatar. The most impressive of these designs might just be the piano. It apparently takes about two hours to assemble and utilizes the camera on both Joy-Con controllers to read key inputs through reflective tape. 
Nintendo has stated that this line of products is designed to showcase "interactive build-and-play experiences that combine DIY creations with the magic of Nintendo Switch." It's clear that they're mostly intended for younger users, though we certainly imagine that a few of these builds might catch the eyes of older gamers as well. 
If you are one of those interested gamers, you'll be able to start purchasing Nintendo Labo kits on April 20. Early reports suggest that Labo kits will cost $69.99, but the exact pricing structure is unclear. For instance, it seems that Nintendo is offering a variety pack that includes several different builds for an as-of-yet undisclosed price. It also seems you'll have to pay a little more for the mech kit ($79.99) and the customization set that allows you to use different color markers, stickers, and tape ($9.99).