News
Nintendo Direct details
The latest Nintendo Direct contained a boatload of 3DS details, which you can find below...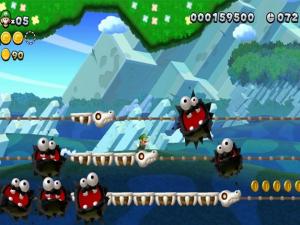 Nintendo's latest Direct presentation has aired, and it contained a ton of 3DS news, including clips and details of some new titles to be launched for the handheld.
New titles coming for the 3DS include Mario & Luigi: Dream Team, which is set to arrive on August 11, a new Mario Party, which will appear sometime in winter, and a prequel to the Wii U's Lego City Undercover called Lego City Undercover: The Chase Begins, which will be released on April 21.
Mario Golf World Tour is coming, and will include online competitive play and leaderboards, along with Friend Community support, and Yoshi's Island 3DS will continue in the mold of the series that started on the SNES, with more details forthcoming.
Animal Crossing: New Leaf is set to launch on June 9, and as well as a release digitally and in stores, it'll also be packaged with a special, themed 3DS XL unit, which will come pre-installed with the game. The RRP for this unit will be $219.99.
A series of titles from Level 5 were revealed. These include the intriguing, The Starship Damrey, a creepy adventure that gives no prior information about the game or the situation at hand, challenging players to figure everything out as they explore. Bugs Vs Tanks is an action title that, unsurprisingly, pits tanks versus bugs, and Attack of the Friday Monsters: A Tokyo Tale is a B-movie monster mash.
Square Enix's Bravely Default is coming to western shores, as is the conclusion to the latest Professor Layton trilogy, Professor Layton and the Azran Legacy, which will arrive in 2014.
RPG fans should be very happy to know that Shin Megami Tensei IV is set to launch on July 16, including a host of special packaging and bonuses.
Now, this is all well and good, and that's a slew of quality titles already, but the announcements also included some core Nintendo franchises too.
The Wii's Donkey Kong County Returns is being reworked for the 3DS. This version will be intentionally tailored to be easier than the Wii version, with more hit switch and helpful items, such as a portable Diddy Kong barrel, green balloons to rescue you from dangerous pitfalls, and crash guards that can protect against crashes when riding rocket carts. Eight new levels set in a new world will be included, and for those wanting to face the original game's challenge, the Wii mode will also be present. There'll be radio, local co-op too. The game will release on May 24.
Mario and Luigi (with the apparent focus on Luigi) also featured heavily. Aside from the aforementioned Mario Party and Golf a couple of new releases starring the Italian plumbers are coming.
First up is some DLC for New Super Mario Bros. U. This DLC is New Super Luigi U, and it uses the same world map as the original game, but features all-new stages (82 in all) designed for, and starring Luigi. These stages will focus on Luigi-specific abilities, such as his greater jumping power and inability to stop easily. There'll be a shorter stage time to complete levels, and it should present a big challenge even to Mario veterans. It'll be released sometime in the Summer.
Mario and Donkey Kong: Minis On The Move will be exclusive to the Nintendo eShop, and is a Pipemania-style puzzler that sees players guide toy Mario minis through levels by using tiles to create a course and avoid obstacles. The game will feature 180 stages spread across four game modes, and you can create you own levels and upload them to others, as well as being able to download new challenges to your game. This will release to the eShop on May 9.
Finally for the 3DS are two big Zelda announcements. The first of these is the re-release of 2001's Capcom Zelda titles, Zelda: Oracle of Ages and Zelda: Oracle of Seasons. As with the original releases, these two can be played separately, and also connected if you have both, granting extra challenges and an end battle not seen if you only play one of them. You can grab these from the eShop on May 3.
However, the biggest news we suspect for many will be the arrival of a new Zelda game that's based heavily on A Link to the Past. This new game will use the game world and mechanics of the 1992 SNES classic, but will mix in 3D and touchscreen elements of the 3DS along with a new story and dungeons. New abilities will also be featured, such as a Paper Link power than lets Link move within walls, making it possible to avoid dangers an reach certain areas. More details are to follow, and you can find a special 3DS 3D video clip for the game on the eShop.
Although the presentation was heavily 3DS focused, there were some announcements for the Wii U too.
New games featured included more details on the upcoming Pikmin 3, which will feature a new flying Pikmin and launch on August 4, and a new title called Game & Wario. This will be a Warioware-style party game effort including a host of mini games, all designed to make the most of the Wii U's unique gamepad interaction. This will arrive on June 23.
The Wii U spring system update was detailed a little more, and it will include loading time improvements for menus, background downloads, USB data transfer enhancements, standby downloads and updates, the ability to quickly go into Wii mode during trunk up and the arrival of the Wii U's Virtual Console. This will be active a day after the update goes live (which is next week) and users who have transferred Wii content over will be able to use this will the new system. VC games will also be available at a discounted price, and you can also play VC games on the gamepad's screen, so you won't monopolise the family TV.
And, finally, after plentiful pressure from fans, it's been announced that SNES cult classic, Earthbound (Mother 2 in Japan) will be released to the western world once more on the Virtual Console before the end of the year.
So, there you have it. That's a whole lot of new 3DS content coming our way, and a bit of Wii U stuff too. You can find the Nintendo Direct presentation below, which contains the full gamut of details.
Like us on Facebook and follow us on Twitter for all news updates related to the world of geek. And Google+, if that's your thing!