News
Nintendo Confirms Cancellation of Miiverse Service
The company's former social network will soon be shut down in Japan.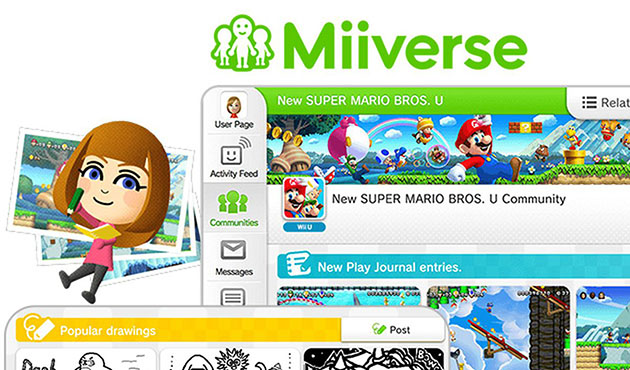 Nintendo is ending their Miiverse service in Japan. 
The company announced this decision via their official Japanese website. The statement reveals that Miiverse services will end in Japan on November 8, 2017. This cancellation of service will affect both the Nintendo Wii U and the Nintendo 3DS. As Miiverse is not used on the Switch, that console will not be affected by this change in service. 
This cancellation of service simply means that any in-game instances of the Miiverse (as well as certain menu features pertaining to the service) will no longer appear. That means things like in-game posts in Super Mario Bros. Wii U will no longer be viewable. 
At present, it is believed this cancellation will affect around 70 Wii U games in Japan and over 20 Nintendo 3DS games. Ther has been no word regarding when – or if – the Miiverse service will be canceled in other parts of the world, but it seems like it's just a matter of time until that announcement is made.
In fact, the cancellation of the Miiverse service has felt inevitable ever since Nintendo announced that they would not be transferring the service (at least as it previously existed) to the Nintendo Switch. 
Nintendo's Miiverse was first introduced as a social network for Nintendo 3DS and Wii U. The idea was that this service would allow players to leave their own mark on a game by leaving behind messages, doodles, videos, and more at designated in-game points. Additionally, the Miiverse allowed for a degree of social interaction outside of games as players could use a built in message board or a simplified in-menu messaging system to interact with other players. 
Like many Wii U innovations, Miiverse was popular amongst Wii U owners, but many people never really got the chance to try it. It's a bit of a shame that Nintendo didn't find a way to expand this service and integrate it into the Nintendo Switch, but it's certainly understandable that they would want to take the Switch's social features in a new direction. 

Read and download the full Den of Geek Special Edition magazine here!