News
New World: Leaked Footage From Amazon's MMO
This newly shared footage of Amazon's New World is kind of a mixed bag.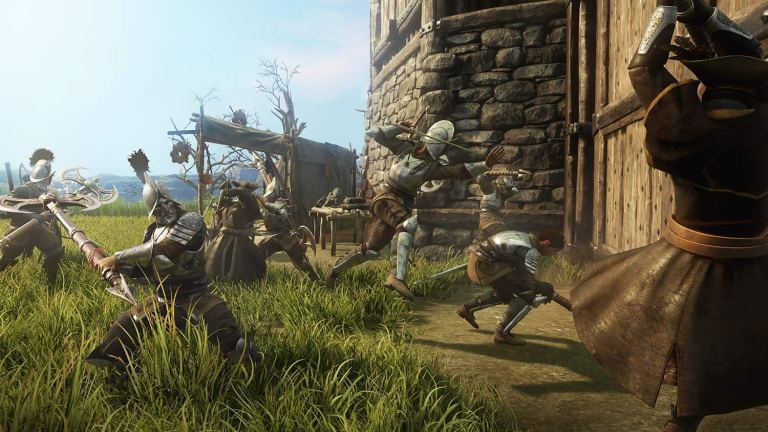 Footage of New World, Amazon's mysterious upcoming MMO project, has been leaked online via…PornHub?
While the footage first appeared on one of the world's most popular porn sites, it was eventually transferred over to the much more SFW video host, YouTube. Fascinating choice of upload site aside, the footage in question is also generating some buzz for a variety of reasons.
While New World is billed as an MMO, it actually looks closer to a modern survival game in many respects. Combat looks like it plays out mostly in real-time (much of the combat we see in the footage features heavy use of a bow-and-arrow) which is probably a pretty smart move considering that a more methodical, cooldown-based approach to combat might not have quite the same appeal as a large-scale, action-oriented title.
We also see the player featured in the video scrounge for a variety of resources in order to craft some relatively simple items. Based on the crafting menu, it seems that the items you are able to craft will gradually become more complicated – and useful – as you progress. However, the full nature of this crafting system (particularly what its role in the in-game economy is) isn't entirely clear based solely on this leaked footage. We also don't get to see the player build any major structures, which was a previously confirmed feature in this game.
What we're also unsure of is what, exactly, makes this a compelling MMO experience. Not to be so blunt about this game – especially since we know so little about it – but this footage that was leaked could have easily come from several similar survival-based games released in recent years. A brief shot of the game's map – which looks fairly large and includes a variety of environments – hints at things like territorial combat, but we're still not entirely sure how the "massively-multiplayer" part of this MMO will enhance or affect the basic gameplay that we see in the leaked video. Considering that the game to beat in this genre is still World of Warcraft, we imagine that there will be quite a few more social elements in the final build of this title.
With any luck, Amazon will provide some more official information – and footage – of New World sometime in the near future.
Matthew Byrd is a staff writer for Den of Geek. He spends most of his days trying to pitch deep-dive analytical pieces about Killer Klowns From Outer Space to an increasingly perturbed series of editors. You can read more of his work here or find him on Twitter at @SilverTuna014.
Read and download the Den of Geek NYCC 2018 Special Edition Magazine right here!