News
New Teenage Mutant Ninja Turtles Arcade Game In Development
Dibs on Donatello.
Arcade maker Raw Thrills have announced that they will be developing a new four-player arcade game based on the Teenage Mutant Ninja Turtles property. 
While this game looks to be inspired by classic Teenage Mutant Ninja Turtles arcade experiences, Raw Thrills will be developing the title from the ground up. While the game's design influences appear to draw from classic arcade titles, its theme is derived from the current TMNT Nickelodeon series. It will even feature voice work from some of the show's principal cast members. 
In the spirit of what's new, Raw Thrills will also be implementing some new gameplay features not seen in the old TMNT beat-'em-up games. That means expanded movesets, more environmental interactions, and enhanced special attacks.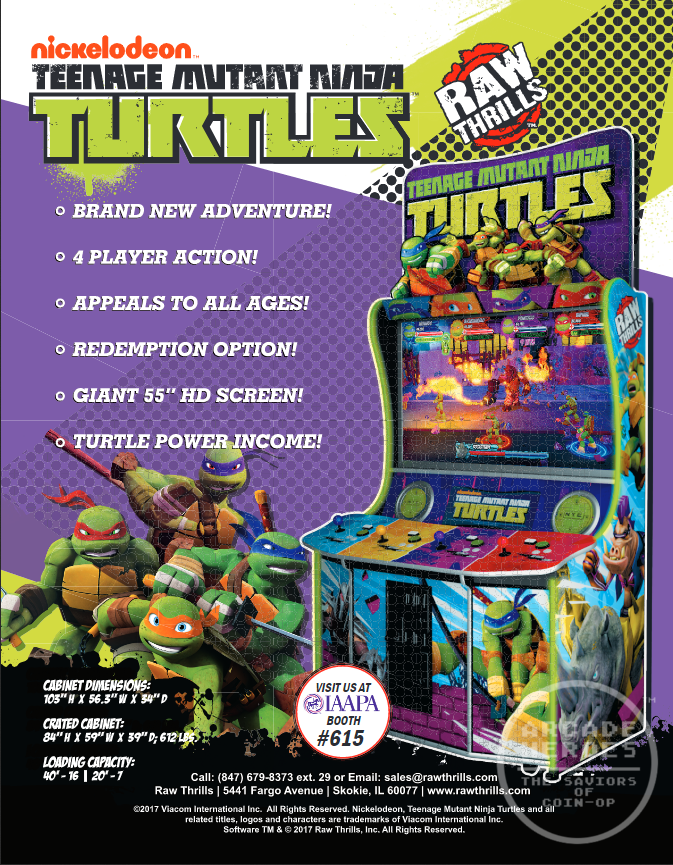 The cabinets themselves will also benefit from modern-day upgrades. Its built-in HD screens will measure nine feet tall and four and a half feet wide. This cabinet is expected to debut at the International Association of Amusement Parks and Attractions Expo in November, but there's no word on when – or if – Raw Thrills will distribute the cabinet to the general public following its debut. 
If recent history is any indication, you shouldn't expect this game to be released digitally on modern-day platforms. Raw Thrills focuses on arcade revivals and tends to craft experiences unique to that format.
It's hard to argue against the belief that there's something special about the TMNT arcade games that subsequent digital releases haven't been able to replicate. While developers have done an admirable job of attempting to adapt these arcade classics since Konami's 1990 NES adaptation of the side-scrolling action game, there's a special thrill that comes from standing shoulder-to-shoulder with your friends at an arcade cabinet. 

Read the latest Den of Geek Special Edition Magazine right here!