News
New Splinter Cell Reportedly Coming in 2018
Be right back, going to play Chaos Theory again...
Amazon Canada has posted a listing for Splinter Cell 2018. 
The listing itself is incredibly simple. It just lists the name Tom Clancy's Splinter Cell 2018, identifies Ubisoft as the developer, doesn't identify any available platforms, and notes that it is currently unavailable. However, it does confirm that it is a video game, which is really helpful for our purposes. Here's a screenshot of the page as it currently sits: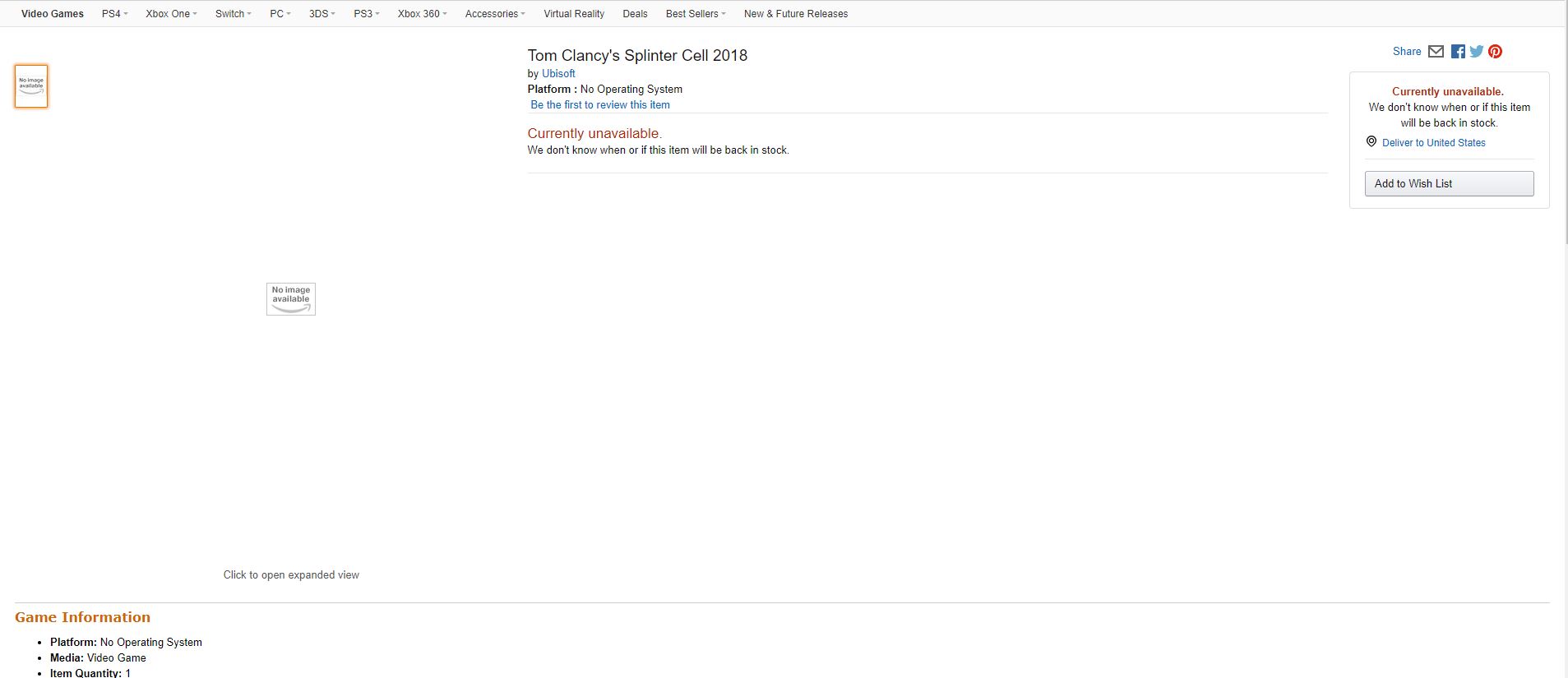 So what do we make of this? Well, Amazon listings have historically been kind of an iffy source of breaking news. More often than not, major games that appear on Amazon before their official reveal do end up being released at some point. That's not a scientific certainty, but it's proven to be true in the past. What's less certain is the release date attached to such games. Amazon has posted release dates ahead of official announcements before, and those dates tend to be far less accurate than the announcement of the games themselves. As such, it might be too soon to hope that a new Splinter Cell will be released in 2018. 
Still, there is plenty of reason to believe this might be true. Ubisoft stated at E3 2017 that they haven't forgotten about Splinter Cell, but they were simply working on too many projects at the moment to discuss it. More recent reports suggest that Ubisoft has a couple more AAA titles coming out before the end of the year that we haven't heard about yet. Given that there likely won't be a new Assassin's Creed this year (although that's not a given) and that Beyond Good and Evil 2 likely won't be released this year, Splinter Cell is certainly a possible release candidate. 
We've reached out to Ubisoft to help clarify this situation and will update this story if we receive a reply. 
Of course, we'd love to see a new Splinter Cell game come out this year (or anytime for that matter). The series has been remarkably consistent over the years, and 2013's Splinter Cell: Blacklist is arguably the greatest Splinter Cell title since the beloved Chaos Theory made its 2005 debut. Given that Solid Snake and Big Boss are – mostly – in retirement, gaming needs a stealth spy hero like Sam Fisher.