News
New Sonic Racing Game Teased by Sega
Sure, Sonic doesn't need a car, but it's pretty sweet that he has one...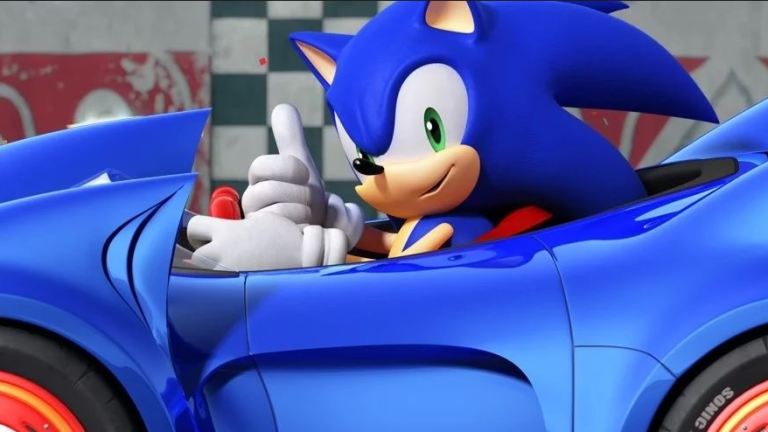 Sonic Racing is probably, definitely, maybe coming back. We think. 
The "mysterious" teaser in the Tweet above has been the source of much speculation that the Sonic Racing series is set to return. It was sent by the Sonic the Hedgehog team, features lots of engine noises and other racing paraphernalia, and includes a logo at the end that really, really looks like it says Sonic Racing. Annoyingly, though, Sega has not yet confirmed that they are developing a new Sonic Racing game. 
Still, it's impossible to think of anything else this teaser could point to. After all, a new Sonic Racing game has been fuelling the rumor mill for quite some time now. It's believed that it will be developed by Sonic & Sega All-Stars Racing and Sonic All-Stars Racing Transformed developer Sumo Digital who previously suggested they were working on an "unannounced karting game" that involved a major IP. 
It's also been reported that toymaker Zappies has been working on a new series of figures based on an as-of-then unannounced Sonic Racing titles. Sega might be trying to cool the fires by tweeting out that another Sonic & All-Stars Racing Transformed game is not in the works, but unless they are stating the game won't carry that specific title, we're going to have to assign them "pants on fire" lying status. 
Sumo Digital's last Sonic Racing game, Sonic & All-Stars Racing Transformed, was a generally well-received take on the Sonic Racing concept. While it's true that Sonic Racing titles have never been held in quite the same regard as the Mario Kart series, they are seen as generally entertaining and often creative kart racing titles that have won over a variety of fans with their solid mechanics and creative gameplay gimmicks. 
We'll be sure to bring you more information on this new Sonic Racing title as soon as it is available.