News
New Narita Boy Trailer is a Visual Masterpiece
This beautiful game just keeps looking better and better.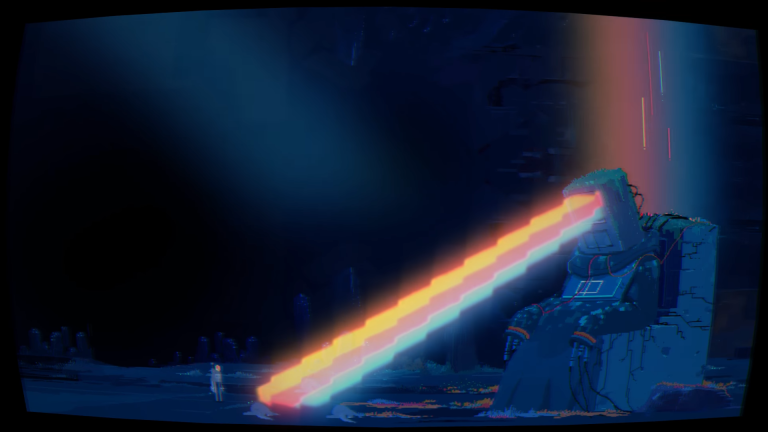 Ever since Hotline Miami and Blood Dragon, developers have experienced a renewed interest in capturing that elusive temptress known as "'80s aesthetics." While it sounds simple to drape some neon over everything, queue up a few synth tunes, and cap it all off with a little retro tech, that's not quite the truth. The many failed attempts at capturing the mood of this particular period only verify that it is a long road on that particular nostalgia trip. 
That's why it's so refreshing to see that Kickstarter game Narita Boy is not taking any shortcuts in its attempt to pay homage to the era. 
Narita Boy's premise centers around the role of its titular hero. In the game's world, Narita Boy is a particularly famous digital character whose exploits have elevated him well above the ranks of Pac-Man and closer to The Beatles in terms of cultural deity status. The trouble is that the practical barriers between our world and Narita Boy's are starting to crumble. As Narita Boy sets out to save his own virtual world, he is also tasked with saving ours. 
Like many of the games that pay homage to this era, Narita Boy emphasis is on aesthetics. The developers cite classic titles like Another World, Double Dragon, and Castlevania among their influences alongside more modern gaming efforts like Superbrothers and Sword and Sorcery when describing the visuals. The soundtrack, meanwhile, is a pure synth experience that is already sounding like the rare game score worth downloading for an everyday listen. 
That's all well and good, but where Narita Boy really shines is in the gameplay footage. Conceptually, Narita Boy's gameplay appears to fall somewhere between a side-scroller and an RPG. Along with the usual hacking and slashing comes a surprising, but welcome, emphasis on leveling and power-ups. It all comes together to form smooth action gameplay that is bolstered greatly by the overwhelming visual flair and more subtle design details. 
Narita Boy appears to be coming along well, which makes it strange to hear that the game is currently on track for a December 2018 release date. That is, of course, if it receives its full funding goal of $126,745. Given that it's almost halfway there with 31 days to go, the odds are looking good. 
To help celebrate the success of the project thus far, Narita Boy's developers have released this new teaser trailer that further showcases the game's incredible style.