News
Mythic Quest: Raven's Banquet Trailer, Release Date, Cast, and News
The Apple comedy series from It's Always Sunny in Philadelphia's Rob McElhenney tackles the world of video game developers.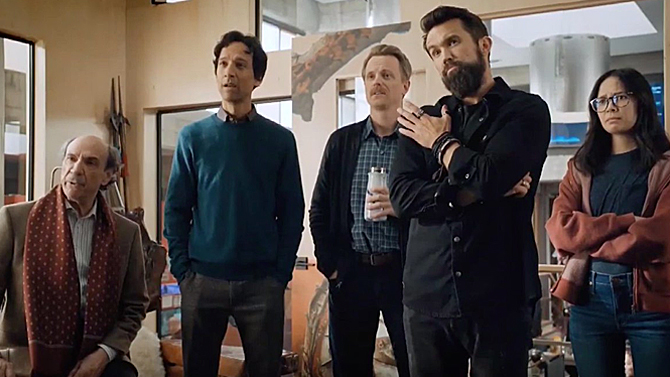 Mythic Quest: Raven's Banquet might, understandably, leave people with the impression that it's a video game, especially since it was the focus of a presentation at E3 2019. However, it's actually an upcoming TV series for Apple TV+ created by Rob McElhenney, the co-creator and co-star of the long-running FX comedy, It's Always Sunny in Philadelphia. Here, McElhenney trades off-the-wall watering hole irreverence for the Bizarro World of a fictional developer of a globally popular MMORPG.
McElhenney made a surprise appearance promoting Mythic Quest at an E3 press conference for developer Ubisoft, with which the actor/creator revealed he partnered in order to achieve the necessary game industry authenticity – and inspiration – for the series.
It's Always Sunny writers and producers Megan Ganz and David Hornsby join McElhenney in creating and producing the show. Here is everything else we know about Mythic Quest: Raven's Banquet.
With a clear genre dash of HBO's Silicon Valley, the series takes place in the fictional studio that created the biggest MMORPG in the world, Mythic Quest. We meet them on the cusp of their biggest expansion yet, Mythic Quest: Raven's Banquet. The show, per McElhenney's description, "follows the team of devs as they navigate the challenges of running their game while dealing with the difficulties of modern office life. These people are truly stuck together, yet they grind it out day after day for the love of the game."
Mythic Quest: Raven's Banquet Trailer
The full trailer for Mythic Quest: Raven's Banquet has arrived! Check it out before Ian Grimm takes credit for your view.
The first teaser, seen just below, was unveiled last June at the E3 Ubisoft presser.
Mythic Quest: Raven's Banquet Release Date
Mythic Quest: Raven's Banquet launches on Apple TV+ on Friday, February 7.
Further reading: Why World of Warcraft Classic Is Better Than Battle for Azeroth
Mythic Quest: Raven's Banquet Cast
Rob McElhenney stars as the fictional company's creative director, Ian Grimm, described by the actor with the statement: "Like most creative directors, he's gifted, driven and tirelessly dedicated to his game. And like most of the creative directors I've met, he has an ego the size of a city bus."
The rest of the Mythic Quest characters consist of game stuido head writer CW Longbottom (F. Murray Abraham), monetization expert Brad (Danny Pudi), game tester Dana (Imani Hakim), lead engineer Poppy (Charlotte Nicadao), executive producer David (David Hornsby), game tester Rachel (Ashly Burch) and assistant Jo (Jessie Ennis).
Joseph Baxter is a contributor for Den of Geek and Syfy Wire. You can find his work here. Follow him on Twitter @josbaxter.