News
Myst Anniversary Collection Includes Every Game in the Series
This collection of Myst games features a couple of currently unavailable classics.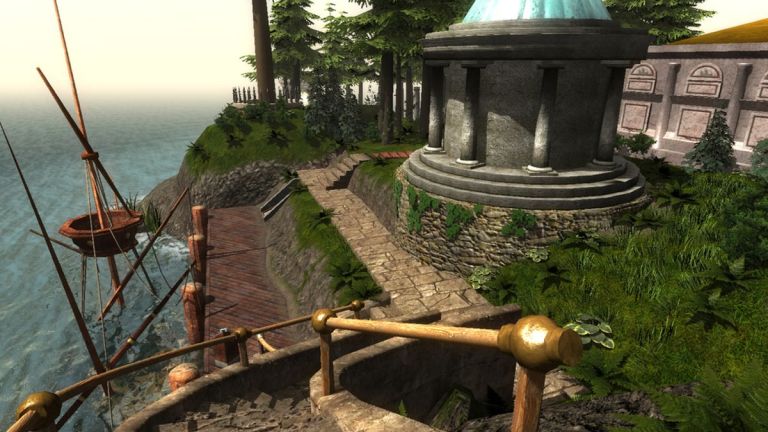 In celebration of the 25th anniversary of Myst, developer Cyan Inc. has revealed their plans to release a special collection of every Myst game. 
To help fund the development of those remasters, Cyan has started a Kickstarter campaign which has already achieved its $247,500 funding goal (it's currently sitting at over $550,000). According to the Kickstarter notes, the goal of this campaign is to compile funding for a 25th Anniversary Collection of the Myst titles. This collection will include all seven Myst games (Myst, Riven, Exile, Revelation, End of Ages, Uru, and RealMyst: Masterpiece Edition). All of these games will be updated to run on Windows 10, but there's a chance that none of them will be remastered beyond any enhancements featured in the chosen version of each title. 
"Changes in the products are first and foremost compatibility with Windows 10. Beyond that, we are hoping to fix little bugs here and there," said a Cyan rep to PC Gamer. "Lastly, we are hoping (but definitely not certain) that we will be improving the look a bit here and there on certain products, but original Myst is a long-shot because of the logistics. As we get a feeling for how much funding the Kickstarter provides we'll be able to provide more specifics in updates." 
Currently, backers who pledge $49 will receive a digital version of every Myst title. From there, the goals grow to include various boxed versions of the collection. The top goal – which required a $1,000 donation – featured a digital copy of every game, DVD version of every game, a Myst book, an animated LCD book panel, digital Myst book extras, Gehn's pen and inkwell, and the original Riven concept sketch art. That tier has already sold out and is no longer available to backers. 
Fans of the Myst series may have already realized that there are a couple of games included in this collection that not like the others. At present, Exile and Revelation are not available via Steam and GOG whereas the rest of the games are. According to the Kickstarter page, Cyan has managed to acquire the rights to both of those games and are now finally able to re-release them. There's no word on whether or not they will re-release those titles individually via digital platforms or whether they will just be released as part of the collection. 
For the time being, though, we highly recommend this collection to hardcore Myst fans. Everyone else may want to try some of the individual games before diving into this collection.