News
Mortal Kombat X: Introducing Jax and Jacqui Briggs
Jax returns to action in the new game and he brought his daughter Jacqui. Jacqui brought some machine gun arms to the party.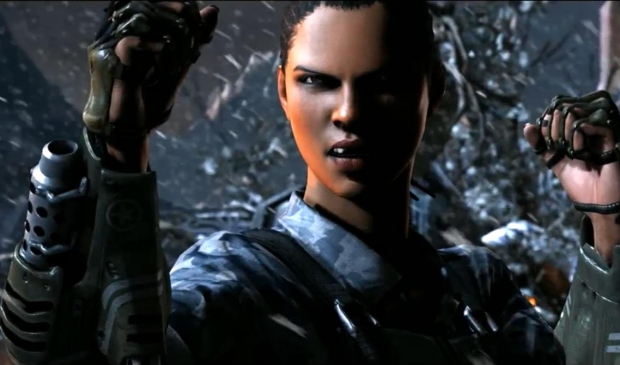 Mortal Kombat X appears to have a major theme about family and part of that is pushing the new generation of heroes. We've already seen plenty from Cassie Cage (daughter of Johnny and Sonya), Takeda (son of Kenshi and student of Scorpion), and Kung Jin (cousin of Kung Lao), but the one we've barely seen anything from is Jacqui Briggs, daughter of Jax. Sure, she showed up early on in the Mortal Kombat X prequel comic and we've known she'd be part of the roster for a while, but we haven't seen what her deal is. Cassie is a mix of her parents' styles. Takeda is Whiplash from Iron Man 2. Kung Jin is an archer. What does Jacqui do?
In this new trailer featuring Jacqui and her father, we find out the answer is "shoot missiles out of her arms!"
It looks like while Jacqui's arms are totally intact, she adopts a variation of her father's style by wearing metal attachments that are armed to the teeth. The trailer plays up a little bit of redemption where she takes on and kills Ermac, the being that blew up Jax's arms in the first place.
As for Jax, we also get a taste of what he has to offer, which includes powerbombing people so hard that their ribs break. As the story goes, Jax was brought back from the dead as an undead servant of Quan Chi. Due to plot device, he returned to normal and helped fight against Quan Chi's army. Then he retired, started a family, and many years later, he's brought back into the fold to protect his daughter.
The game is only a couple weeks away and we'll be seeing more footage in the days to come. For more coverage on Mortal Kombat X, check out our hub.