News
Mortal Kombat 11: Kotal Kahn Revealed as New Character
The bloodthirsty ruler of Outworld takes on Jax's cyber-armed daughter in this first-look trailer.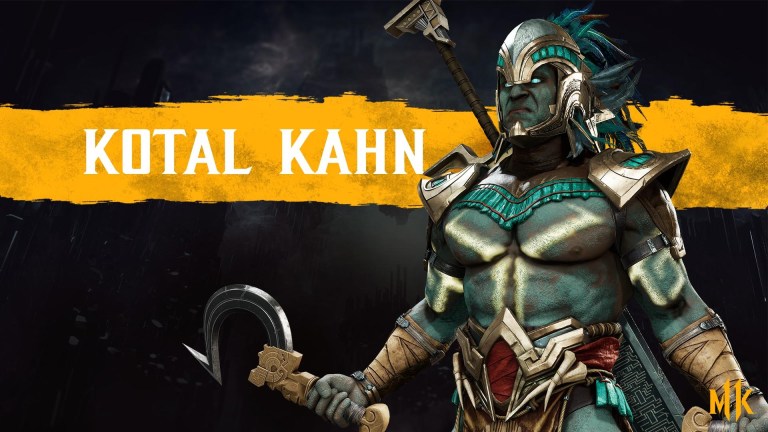 We're just over a month away from NetherRealm's Mortal Kombat 11. Gradually, we're learning more and more about the cast of characters and the trailers are trickling in bit by bit. Recently, a story trailer confirmed that Cassie Cage, Erron Black, Kotal Kahn, and Jacqui Briggs are all returning from Mortal Kombat X. While we got to see Cassie in action, there was little info on the others.
Erron Black will have to wait another day as we've instead been given this Kotal Kahn trailer that is secretly more of a Jacqui Briggs trailer.
Just to play fair, here's what one of Kotal Kahn's Fatalities looks like. It's pretty gnarly.
Kotal Kahn belongs to a race of warriors conquered by Shao Kahn's forces centuries ago. Hidden from the conflict, the young Kotal ventured into Earthrealm, where he stumbled across conquistadors accosting a Mayan family. Kotal took action against the invaders and soon found himself worshipped as a god. Under the name Buluc Chabtan, he used his sun-based powers and zest for human sacrifice to rule over the Mayan people and protect them until they died out from disease (eating the hearts of their enemies was probably not the healthiest habit).
Further Reading: Mortal Kombat Characters Ranked
Kotal returned to Outworld and worked under Shao Kahn until the latter was completely destroyed. Kotal Kahn rose to rule Outworld and, while a violent warrior with a taste for blood, he proved to be a relatively benevolent emperor who cared for his people. Kotal Kahn had an alliance with Earthrealm until things fell apart, but the events of the new story (including the return of Shao Kahn due to time-travel) have him working alongside Raiden once again.
Now he can turn into a giant cat. Sweet.
As for Jacqui Briggs, she is the daughter of Mortal Kombat staple Jackson "Jax" Briggs. In the last game, she worked alongside her best friend Cassie Cage, as well as fellow new generation warriors Takeda and Kung Jin. Evolving past her father's metal arms, Jacqui thrives on metal, weapon-based augmentations. Most notably, she wields arm cannons of different varieties. Her arsenal has increased and she even wields the Aegis Reflector attack from Street Fighter, which she uses in grizzly fashion in her Fatal Blow and Fatality.
Apparently, we're going to be getting more Mortal Kombat 11 news this Friday, including a new story trailer and the first DLC announcement. Fingers crossed that said DLC character has an interest in making you float.
Mortal Kombat 11 will be released on PlayStation 4, Xbox One, Nintendo Switch, and Windows on April 23.
Gavin Jasper writes for Den of Geek and is hyped that Cuphead for Switch, Mortal Kombat 11, and Avengers: Endgame are all coming out within the same week. Read more of his articles here and follow him on Twitter @Gavin4L