News
Mortal Kombat 11: Kabal Revealed as New Character
The helmet-wearing enigma returns to Mortal Kombat in this brand new trailer and let's just say losing to him is a drag.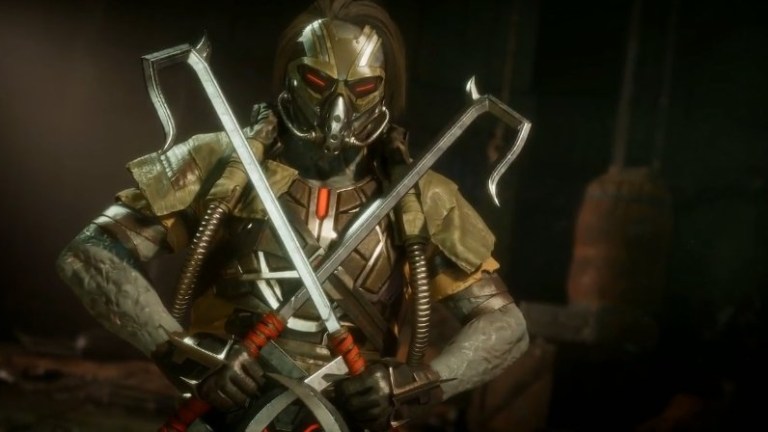 In two and a half months, Mortal Kombat 11 will hit the scene. Normally, NetherRealm Studios gives us about nine months to a year before the next big release, but with only four months between the announcement and launch, the studio has picked up the pace with the reveals.
Originally, NetherRealm's Mortal Kombat 11 Kombat Kast live stream was supposed to happen last week, but due to weather, it was delayed. Now we're all caught up and the inaugural episode introduced one of the big returning characters: Kabal
Kabal was a bit overpowered in Mortal Kombat 9, so to hold him back a little bit, the developers have replaced his gas mask blast attack with a poison gas that weakens the opponent if they walk into the cloud. He also has a jetpack that allows air-dashes.
Let's check out Kabal, the hook sword-wielding speedster:
Introduced in 1995's Mortal Kombat 3, Kabal was a member of the Black Dragon syndicate who turned his back on crime and chose to fight it as a police officer. He and his partner, Kurtis Stryker, were overwhelmed by Shao Kahn's invasion and Kabal ran afoul of a fire-breathing Kintaro. Burned beyond recognition, Kabal was rescued by Kano, who used Shang Tsung's sorcery and makeshift Black Dragon technology to keep Kabal alive in hopes that he would return to the fold and fight under Shao Kahn's banner. Kabal refused.
Further Reading: Mortal Kombat: Ranking All of the Characters
In the original timeline, Kabal became a vigilante until facing near-death at the hands of Mavado. Saved by Havik, Kabal chose to return to the criminal underworld and restarted the Black Dragon as its new leader. He and his new recruits eventually died during the Battle of Armageddon along with nearly all of the Mortal Kombat cast.
In the rebooted timeline, Kabal didn't last so long. Shortly after joining the heroes, Kabal was one of many murdered by Queen Sindel. He was resurrected as a revenant, controlled by the whims of Quan Chi. Now, Quan Chi is dead, meaning Kabal's fate is up in the air.
Further Reading: Mortal Kombat Timeline: Story Explained
Due to the new game's approach to time travel and timelines, you're able to play as Kabal from before he was horribly scarred and fight without his trademark mask. It was also announced that D'vorah from Mortal Kombat X will be returning, though without any actual footage to go with that.
Mortal Kombat 11 will be released on April 23 on PlayStation 4, Xbox One, Nintendo Switch, and Windows.